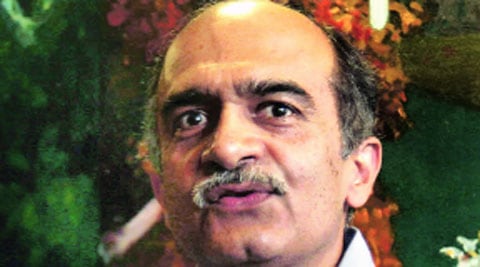 In what AAP leader Prashant Bhushan termed an act "out of vengeance" by Himachal Pradesh Chief Minister Virbhadra Singh, the state government was moving to "confiscate" 122 kanal land that the lawyer's Kumud Bhushan Educational Society had acquired in a village in Kangra district.
This comes after an enquiry conducted by the State Vigilance and Anti-Corruption Bureau (SV&ACB) concluded that the society had "violated the terms and conditions of the rules". A letter written by Joint Secretary (Vigilance) to the Principal Secretary (Revenue) on November 18, 2013 stated that an enquiry had been conducted by the Bureau regarding irregularities in granting relaxation of rules for the purchase of land to Bhushan.
"During the enquiry, it has been found that permission was granted to purchase 122 kanal tea estate land to run an education institute in favour of Kumud Bhushan Education Society in 2010 with the condition to run an educational institute within 2 years but no school or collage (sic) has been found to be existing on the spot. However, an educational institute namely Shambhavana is existing which is not affiliated with any university or Board. Hence, the society has violated the terms and conditions of the rules and the land is required to be confiscated to the account to Government of Himachal Pradesh. You are therefore requested to take further action in the matter under intimation to this department," stated the letter.
The enquiry report has been under wraps for over two months. Sources in the CM's office told The Indian Express that there has been "no further action" in pursuance to the said letter regarding confiscation "because of the fact that the person involved is very influential".
When reached for comment, Bhushan said, "I don't know how the Vigilance got involved. The Revenue department had conducted a full enquiry and closed the matter after finding that all programmes were running at the institute. In fact, when we applied for an extension to complete, the response of the government was that you have already started the institute and therefore, no extension is required."
"After I filed a petition against Virbhadra Singh to the CBI regarding Rs 6 crore in cash transfer to him by way of LIC, they started the enquiry. When I filed a writ petition in the High Court 3-4 months ago, the whole enquiry was re-opened. Virbhadra Singh is doing it out of vengeance because of corruption cases against him," said Bhushan.
The Vigilance department probe had concluded that the educational institute named Sambhavana is neither a college nor a school. It is not an affiliated educational institute to any university or board. "So it does not fall in the definition of an educational institute as per the letter of the Directorate of Higher Education," stated the report.
Bhushan countered it saying, "We never said it would be a regular institute. It is a different type of educational institute training and motivating public policy activists and later there would be a learning institute …continued »