From inside her Audi, Hema Malini sells Mathura a dream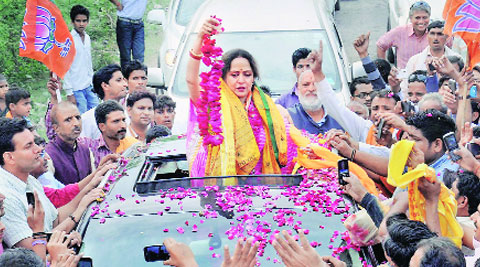 Hema Malini canvassing in Mathura on Wednesday. (PTI photo)
As the cavalcade rushes through the congested lanes of Mathura, it is difficult to miss the gleaming black Audi among the other accompanying luxury cars – decked with bright orange and yellow marigolds.
Two escort police jeeps announce the arrival of the 'Dreamgirl' with blaring sirens, as the crowds gape.
The excitement is hard to miss. Curious onlookers wait in the midday summer heat to catch a glimpse of yesteryear heartthrob, Bollywood actor Hema Malini, who is the BJP candidate from Mathura.
"Is madam in that kaali gaadi (black vehicle)?" a young rickshaw puller, grinning from ear to ear, asks a constable standing by the road. He is shooed away.
Oblivious to the excitement, the cars drive past temples and ashrams, garbage heaps and overflowing sewers, on potholed roads. Hema Malini, comfortable in the airconditioned luxury of her vehicle, never steps out — barring when it is for darshan at another Krishna temple.
And when she does step out, a group of six-foot-tall, muscular bouncers form a human chain around her to keep the crowds away.
"I am a woman and an artist. I cannot go in a crowd," Hema Malini said later. Asked how she would then be able to go among her public, she dodges the question.
After paying her obeisance at the Banke Bihari temple early Wednesday morning, Hema Malini headed off to Yamuna Ghat to pray for her success. "My first priority after coming to power will be to clean up the Yamuna. I was the brand ambassador of a similar project 'Ganga Sparsh'. Now, I will do it for Yamunaji. Till this date, I am lauded for my work of cleaning up Juhu beach area in Mumbai," she told The Indian Express.
Upliftment of women, particularly generating self-employment for the widows in Mathura-Vrindavan, also tops her agenda. Asserting that only "Modiji can ensure safety of women", Hema Malini said the BJP's prime ministerial candidate would soon visit the city to campaign for her. She also plans to push Mathura's case for being officially declared a pilgrimage site if she is voted to power.
Highlighting her long association with Mathura-Vrindavan, Hema Malini told reporters that she had ditched Noida and Ghaziabad for a ticket from Mathura. "I am a nrityangana and a dancer is always attached to Lord Krishna. I have been coming here as a devotee for years. Every time, people used to ask me when I would fight elections from this constituency. When Rajnathji offered me these places, I immediately opted for Mathura."
Claiming that she had everything in life by "Krishna's grace" and wanted to work selflessly for the people, she said her motto was "Swachh Mathura, Sundar Mathura" (Clean Mathura, Beautiful Mathura). "But people's mentality must change too. In India, we have learnt to accept situations as they are. Citizen's participation is essential in keeping the country clean."
Referring to herself as a jatni bahu, Hema Malini said she was sure of …continued »