Recharge offers : Get Guaranteed discounts on every Recharge, Bill payments, DTH transactions
India is to get its first bullet train, at a cost of Rs 60,000 cr, between Mumbai and Ahmedabad. It will cover the 520-km distance at an announced speed of 350 kmph. The cost of laying a kilometre of tracks for the network will be eight times the usual Rs 15 crore figure.
A Bullet Train is a high-speed passenger rail train, so named because of its aerodynamic design and velocity. The breakthrough design originated in Japan, where the service is called Shinkansen, which translates into "new trunk lines".
THE START
# 1899 was when high-speed rail development began in Germany with 72 km of electrified tracks
# 206.7 kmph was the speed the first railcar achieved in 1903 in Germany
# 145 kmph was the speed achieved by engineers at Odakyu Electric Railway in Tokyo in 1957 when they launched the Odakyu 3000 series SE EMU on a narrow gauge, before Japan shifted to  standard gauges
# October 1, 1964, was when the first bullet train service, named Shinkansen, took off between Tokyo and Osaka, in time for the Olympics
# 210 kmph — top speed of the first Shinkansen train; 162 kmph — average speed
# 574.8 kmph was the speed France achieved with a SNCF TGV POS train, making it the fastest wheel train ever. Was meant for testing engineering capabilities, not travel
THE PACE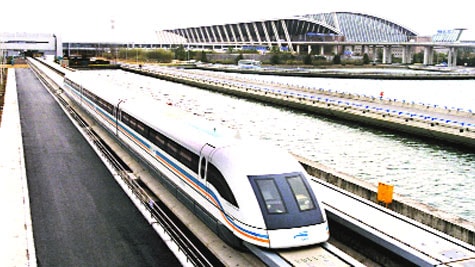 China
# 10,000 kmph high-speed rail network by 2013 – the largest in the world
# 430 kmph the maximum operational speed on Shanghai Maglev, which uses magnetic levitation to propel it
# 251 kmph  the average operating speed on the Maglev
Japan
# 2,388 km  of network
# 240-320 kmph  average speed on the network
# 2027 is when its new magnetic-levitation train network will be fully implemented, with trains running at 500 kmph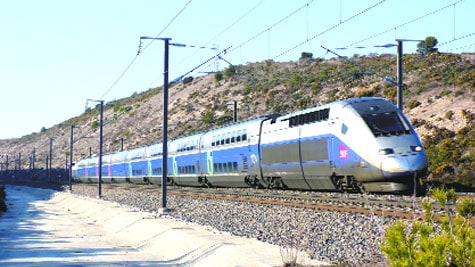 France
# 1981 was when France's Train à Grande Vitesse (TGV) network began service
# 200  destinations in its network by 2007, including France, Germany, Switzerland
Spain
# 310 kmph  is the speed Spain's Alta Velocidad Española (AVE) service operates at
# 3,100 km network by June 2013, making it the second largest in the world after China
Taiwan
# 345 km  of tracks in Taiwan along the east coast
# $18 billion is project cost
UP AHEAD
# China has proposed a network connecting China to Russia, Europe, Central Asia, India and Singapore
# Russia wants a high-speed rail link via a tunnel under Bering Strait
#  Morocco will have a 200-km route running by Dec 2015
#  First phase of Mexico's high-speed link to be completed by 2018
#  Pakistan, Philippines, Thailand, N Korea, Vietnam, Poland, Canada are working on similar networks
Do you like this story