Written by
Ananya Bhardwaj
| Gangapur |
Published: July 29, 2014 1:27:36 am
In June this year, Mohammed Merazuddin could have been a mechanical engineer. Instead, three months after he was detained briefly by the Delhi Police for alleged links with the Indian Mujahideen (IM), the 22-year-old is at Delhi's Tablighi Jamaat, cut off entirely from the world of science and technology that he had chosen for himself.
Suspended by his college, Jaipur's Global Institute of Technology (GIT), after his detention, Merazuddin, or Meraz, has not been allowed back, says his family.
"I have taken away his phone, and sent him to the Tablighi Jamaat in Delhi. He is living there with the maulvis and learning about the work of prophets. It is for his spiritual reformation. Reaching out to Muslims, preaching to them, will bring him closer to Islam," Meraz's father, Mohammed Niazuddin, a train driver, said.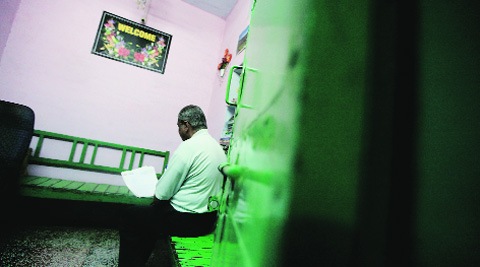 Meraz, a fourth year B.Tech student, was picked up early on March 23 by the Delhi Police from a house in Jaipur that he shared with alleged IM operative Waqar Azhar, a fellow mechanical engineering student accused of plotting a terror attack during the Lok Sabha elections. Meraz was alleged to have lent his laptop to Waqar.
However, the Delhi Police released Meraz within 18 hours, handing him over to his father after completing a few formalities in the capital.
But Meraz's college suspended him, citing media reports. Says Niazuddin, "After what Meraz went through, his college, his friends, relatives, everyone abandoned him. They all asked questions that made him uncomfortable."
In the circumstances, Niazuddin said, Tablighi Jamaat "was the best I could have done for him". "I go to Delhi once in a while to meet him, otherwise Meraz is not in touch with any of his brothers or friends here."
Niazuddin said he wrote to the GIT authorities twice — on April 3 and April 24 — and went to meet the registrar and the director of the institute, but they were unwilling to have his son back.
Sources said the Delhi Police Special Cell too had requested GIT to take Meraz back. They had summoned the college registrar, Surendra Kumar Pokharna, with Meraz's records and certificates and, after examining his credentials, conduct and record of attendance, reportedly asked the registrar to re-admit him.
"As a part of our investigation, we examined the records and told the registrar that as Meraz had no connection with the case, he should be allowed to write the exam and complete his degree. We told him that Meraz was interrogated and let off only after we were satisfied of his innocence," a Delhi Police officer said.
Rajasthan DGP Omendra Bhardwaj, however, said the state police could yet question Meraz. "We have neither given him a clean chit nor are we saying he could be guilty. We have not interrogated him yet but at some point in the future might need to talk to him," he told The Indian Express.
Niazuddin said the college had refused to listen to the family's pleas.
"Meraz told me he wanted to resume his studies and pursue an M. Tech degree. He wrote to the university too, asking that he be reinstated as no evidence had been found against him, but no one entertained his application. Then I went to the authorities with another application, and also attached news clippings about Meraz's innocence, but they refused to take my application. I had to send it by post. On April 29, a reply came from the college saying they had informed Rajasthan Technical University about the matter and that we should wait for a reply from them. I am still waiting."
GIT director Prof. Renu Joshi, however, said they had never stopped Meraz from appearing for his exam. "I told Mr Niazuddin to come and fill in the forms required for the admit card, and also asked him to speak to the university authorities, but he never turned up. In fact, we even sensitised the students in our college, asking them to behave normally with Meraz once he returned."
Registrar Pokharna too insisted the college had not stopped Meraz from rejoining. However, Meraz's suspension was never revoked.
Niazuddin said he would go back to GIT in October, when forms are issued for students who haven't done well to take the final year exams again. "I will request them to let him appear and finish his degree, else we will have to hire a lawyer. My son is very good in studies and aspires to be an engineer. He scored over 80 per cent in his Class XII exam, and cleared his first three years at the engineering college with distinction. I can't let his dreams crash just because he was picked up by the police on mere suspicion."
Pokharna, however, conceded it was unlikely that Meraz would be able to write the exam. "He did not attend even a single class of the final semester (that began in January) and will not be allowed to sit for the exam as 75 per cent attendance is compulsory. However, he can always give an undertaking and get it approved from the university," the registrar said.
For all the latest India News, download Indian Express App