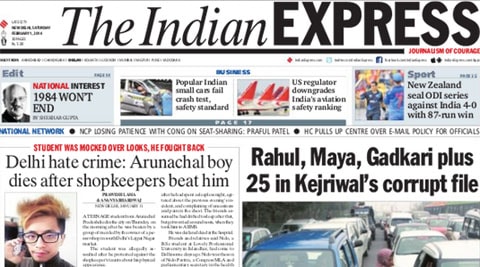 The weekend has arrived but we recommend you go through these five Express stories before starting your Saturday:
1. BEYOND MODI'S POLITICS: The man she claims is still her "husband" is the BJP's prime ministerial candidate and is considered the frontrunner for the top job this year. But Jashodaben, 62, a retired school teacher who was married to Gujarat Chief Minister Narendra Modi when she was 17 – and separated after about three years – is far removed from the rough and tumble of politics.
'I like to read about him (Modi)… I know he will become PM', Jashodaben tells Lakshmi Ajay
2. POLL PREPARATIONS: Bihar chief  Minister Nitish Kumar has taken the initiative to launch a "federal front" of 14 regional parties to fight the Congress and the BJP in the Lok Sabha elections and has begun talks with Samajwadi Party chief Mulayam Singh Yadav and JD(S) head and former PM H D Deve Gowda.
Nitish, Mulayam, Gowda join hands to shape 14-party 'federal front': Report by Santosh Singh and Mohd Faisal Fareed
3. BRIDGING GAPS: It was a contest unlike any other. Students from schools across the capital gathered to celebrate the beauty of Hindi and Urdu. The event, 'Kaavyanjali', not only had students reciting acclaimed Hindi poems, but also singing Urdu ghazals and qawwalis.
Schools come together to celebrate Hindi, Urdu, reports Shikha Sharma
4. DELHI SHAME: A teenage student from Arunachal Pradesh died in the city on Thursday, on the morning after he was beaten by a group of men led by the owner of a paneer shop in south Delhi's Lajpat Nagar market.
Delhi hate crime: Arunachal boy dies after shopkeepers beat him, full report by Prawesh Lama , Ananya Bhardwaj
5. NATIONAL INTEREST: Rahul only had to learn from his mother. Until 2004, her party had hidden from questions about another indefensible crime: the Emergency. But once our 'Walk the Talk' conversation drifted back to the darkest chapter in her party's history, she was quick to seize the chance.
Opinion by Shekhar Gupta: 1984 won't end
For all the latest India News, download Indian Express App