New Delhi |
Updated: March 7, 2014 9:57:21 am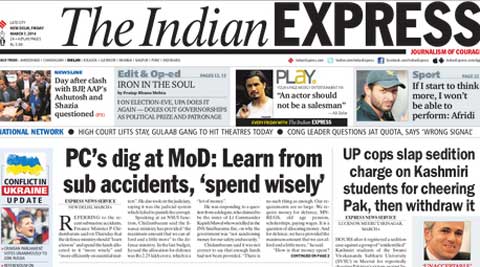 We bring you five best stories of the Indian Express you must read before you begin your day.
1. On the issue of corruption: Referring to the recent submarine accidents, Finance Minister P Chidambaram said the defence ministry should "learn a lesson" and spend the funds allocated to it "more wisely" and "more efficiently on essential matters". He also took on the judiciary, saying it was the judicial system which failed to punish the corrupt.
2. Akhilesh's poll difficulties: Ticked off by Mulayam, pressured by his relatives as well as Azam Khan and faced with countless other problems before and after the Muzaffarnagar riots, the UP chief minister heads into a difficult poll with the Samajwadi Party up against a resurgent BJP.
3. Modi vs Joshi: Varanasi is set to go to polls on May 12. The local party unit is divided, with many wanting Modi as their candidate. Their sentiments are reflected in some of the hoardings put up across the city.
4. Opinion: Leaders are characterised by a capacity to change. They may have posed risks in the past, but one of their qualities is the ability to sense a political occasion and live up to it. In a way, much of the Narendra Modi surge has elements of both of these impulses.
5. For the Telugu Pride: Former Andhra Pradesh chief minister N Kiran Kumar Reddy, who recently resigned over the creation of Telangana, on Thursday announced that he is launching a new political party on March 12. Reddy made his intentions clear at a public meeting at Rajahmundry and said that he wants to fight for the interest of Telugu-speaking people.
For all the latest India News, download Indian Express App