New Delhi |
Updated: January 31, 2014 8:48:23 am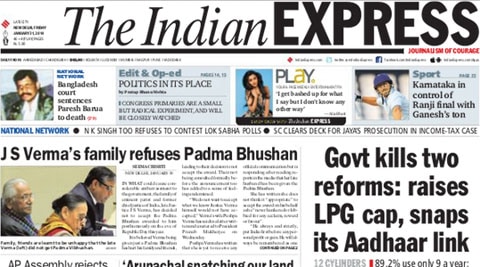 The weekend has almost arrived, but we recommend you go through these five Express stories before starting your Friday.
1. NO TO PADMA: In what could cause considerable embarrassment to the government, the family of eminent jurist and former chief justice of India, late Justice J S Verma, has decided not to accept the Padma Bhushan awarded to him posthumously on the eve of Republic Day this year.
Seema Chishti reports on why J S Verma's family refuses Padma Bhushan
2. ANTHRAX THEORY REJECTED: A party allegedly organised by a group of local BJP leaders at Bilaspur zoo on the night of January 14 could have been the reason for the death of 21 female cheetals or spotted deer in their zoo enclosure, locals have alleged.
BJP men 'partied' at zoo the night before 21 cheetals were found dead, report by Ashutosh Bhardwaj
3. INTERNAL ENCROACHMENT: According to the Assam government, 15,069.65 hectares of land around Behali, covering as many as 30 reserve forests along the border, have been encroached upon by Arunachal Pradesh.
'Arunachal snatching our land, govt has failed to protect us', Assam tells Samudra Gupta Kashyap
4. COMPROMISE FORMULAE: Facing the ire of the leadership for allegedly instigating supporters to indulge in anti-party activities, suspended DMK leader M K Alagiri demanded Thursday revocation of suspension of his 10 aides for a compromise.
Alagiri sets condition for compromise, report by Gopu Mohan
5. IGNORING PEOPLE VOICE: Raising the Maoist bogey helps the Chhattisgarh government to deflect attention from its deliberate refusal to act on the Supreme Court's order. The state government is unable to accept the right to protest and unwilling to hear the people's voice.
Opinion by Nandini Sundar: Everywhere, a Maoist plot
For all the latest India News, download Indian Express App