Updated: February 27, 2014 8:41:19 am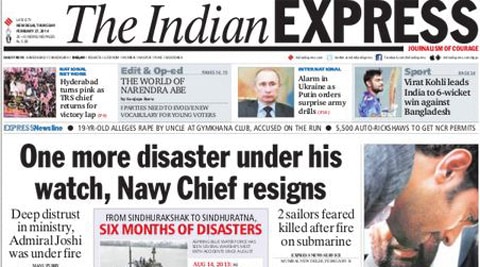 We bring you the five must-read-stories from The Indian Express which we recommend that you read before beginning your day.
1. Lalu Prasad Yadav retains Type VIII bungalow despite being disqualified as MP
Going through its final weeks, and days before the model code of conduct comes into force, the government is handing out favours to a range of people — from politicians to bureaucrats to police officers.
The Ministry of Urban Development on Wednesday took the cabinet route to allow RJD chief Lalu Prasad to retain a Type VIII bungalow on Tughlaq Road for another year, accepting his plea that his wife was ill and required regular visits to AIIMS. Full story: UPA's farewell gift: a house for Lalu, rent waiver for many
2. Jagdalpur city SP's suicide note reveals cause for shooting his wife dead before taking his life
In the suicide note he left behind, Jagdalpur city SP Devnarayan Patel said his department had humiliated him on the word of a drunken judge, without giving him a chance to tell his side of the story.
The officer shot his wife dead before turning his weapon on himself early on Tuesday. The couple's 11-year-old daughter, who was hit by a bullet that ricocheted off a wall, is paralysed waist downward, and may never walk again, doctors said. Full story: 'No one heard my side of story, I decided to go with family'
3. Moily overrules Jayanthi's refusal for gene modification trials
In a clear shift from the stand of his predecessor Jayanthi Natarajan, Environment Minister Veerappa Moily has approved the March 2013 decision of the Genetic Engineering Appraisal Committee (GEAC) to allow more than 200 successful gene modification trials for rice, wheat, maize, castor and cotton.
Moily has also called a meeting of the GEAC on March 25, a year after it last met and cleared the field trials. The trials were held up after Natarajan had refused to approve the GEAC decision and wrote to the Prime Minister saying field trials were not feasible as the issue was pending in the Supreme Court. Full story: Jayanthi scuttled, Moily clears GM crop trials
4. Ramvilas Paswan once called for Narendra Modi's resignation
Even as LJP chief Ramvilas Paswan and his actor-turned-politician son Chirag are working out the details of a possible tie-up with the BJP, the Bihar politician may not find it easy to convince his supporters.
Twelve years ago, on April 29, 2002, Paswan, then the Union Coal and Mines Minister, resigned his ministerial post and walked out of the NDA in protest against the Gujarat riots and the violence against Muslims. If Paswan rejoins the NDA, he will have to do business with BJP's PM candidate Narendra Modi, whose continuation as Gujarat CM was the reason why he left the alliance. Full story:  Once upon a time he said need to remove CM Modi
5. Opinion: On Narendra Modi's foreign policy 
The frontier is where domestic politics meets diplomacy. It was no surprise then that the BJP's prime ministerial candidate, Narendra Modi, dwelt on foreign policy issues during his swing through the northeastern states earlier this week. Flanked by China, Bangladesh and Myanmar, the Northeast is a crucible where many of India's foreign and security challenges come together.
Speaking at Pasighat in Arunachal Pradesh, a state claimed in its entirety by Beijing, Modi declared that China must shed its "expansionist mindset". He also insisted that Arunachal is an integral part of India and that "no power can snatch it from us".
Full story: Modi's frontier
For all the latest India News, download Indian Express App