New Delhi |
Updated: February 4, 2014 10:49:31 am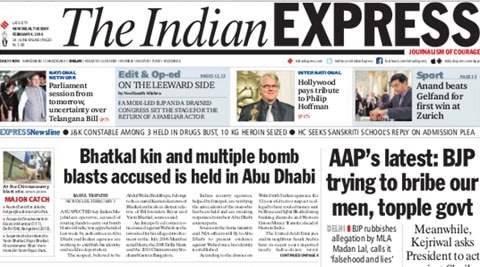 We suggest that you go through these five Express stories before starting you day:
1. TERROR ARREST: A suspected key Indian Mujahideen operative, accused of routing funds to carry out bomb blasts in India, was apprehended last week by authorities in Abu Dhabi and Indian agencies are working to establish his identity and seek his deportation.
Yasin Bhatkal kin and multiple bomb blasts accused is held in Abu Dhabi, reports Rahul Tripathi
2. REFORMING CONGRESS: Congress vice-president Rahul Gandhi is planning to introduce organisational elections to pick the party's leaders, from "top to bottom", including Congress Working Committee members and office bearers like general secretaries.
Manoj C G reports: Rahul Gandhi plans elections to pick CWC members too
3. CANCER ALERT: Aizawl, the capital of Mizoram, has the highest incidence of cancer in India. This is true for both men and women. The Northeast as a whole is most susceptible to the disease, according to data from the national cancer registry's consolidated report for 2009-11.
N-E tops cancer list, spike in gall bladder cases in Delhi women by Pritha Chatterjee
4. WALK THE TALK: Writer and activist Gloria Steinem has been involved in feminist and social justice movements for over 40 years. She talks to The Indian Express Editor-in-Chief Shekhar Gupta, on NDTV 24X7's Walk the Talk, about what set her off on her path, why categorisation into masculine and feminine is essentially dehumanising, and her relationship with India that began nearly half a century ago.
'The Delhi rape was a moment of learning the world over': An exclusive interview
5. INDIAN MARKET: What has made Indian stand out among emerging markets, and can the rupee and the economy withstand the current turmoil in the global economy? India's improved trade balance should ward off emerging market volatility.
On the leeward side, opinion by Neelkanth Mishra
For all the latest India News, download Indian Express App