Take a look at these five exclusive stories from The Indian Express before you start your day:
1. RSS' REALITY CHECK: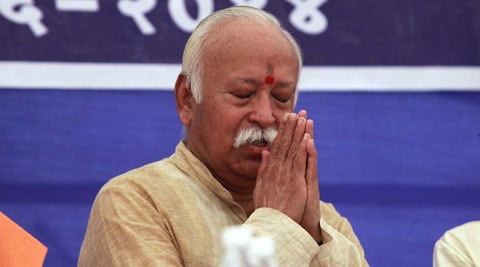 A day after Prime Minister Narendra Modi hailed BJP president Amit Shah as the "man of the match" at the BJP national council meeting in New Delhi, RSS chief Mohan Bhagwat said on Sunday that the BJP won the Lok Sabha elections because people wanted change, and not because of its leaders.
Day after, RSS reality check: Leaders always there, this time people wanted change – An ENS report
2. FEAR STILL HAUNTS:

Charged with the Akshardham attack of 2002, they served varying terms in jail until the Supreme Court acquitted all six this year and pulled up the Gujarat police for having framed them. But even after being released, they fear that they remain under the watch of the police, with one saying he was questioned after getting bail, another after serving his term and one even after being acquitted.
Cleared by SC, but they still fear the police midnight knock – a special report by Ujjwala Nayudu
3. SPY PROGRAMME FAILS: 
For months now, the intelligence services have been engaged in an increasingly desperate effort to stop the next 26/11-seeking communication from Maharashtra and Kashmir men fighting with Islamist insurgents in Iraq; Indian jihadists in Afghanistan; the Lashkar-e-Taiba (LeT) leadership's orders to operatives.
Praveen Swami reports – Hands tied on tech, India's digital eye is half shut
How we decide the vexed issue of the method of selection of judges of the Supreme Court and the high courts would determine the future of our democracy and the rule of law in the country. We are faced with the twin problem of selecting the best judges and also ensuring that the judiciary would be insulated from executive interference.
Prashant Bhushan's take on the issue: Lay down standards of transparency
India skipper Mahendra Singh Dhoni is doing all the thinking on field these days. Bowlers bowl to his plan and stick to the angles that are true to fields set for them. Most times in this series, all the big ideas (not always effective) have emerged from the behind the stumps.
Handing over their thinking caps, reports Sandeep Dwivedi from England
For all the latest India News, download Indian Express App