New Delhi |
Updated: January 30, 2014 9:24:24 am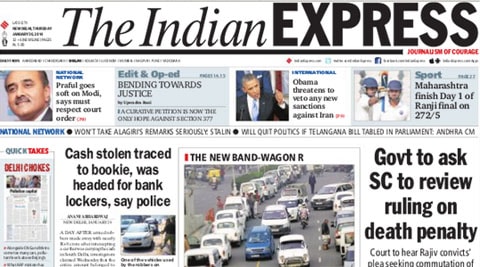 We recommend that you go through these five Indian Express stories before starting your day:
1. GHOST OF 1984: Contradicting Rahul Gandhi's assertion that the Congress government did everything it could to stop the anti-Sikh riots in Delhi in 1984, the then President Giani Zail Singh's press secretary alleged that the riots were "orchestrated and sponsored" and claimed that the then PM Rajiv Gandhi did not even take calls from the President when he tried to get in touch with him to discuss the situation.
Manoj CG reports that 'Rajiv Gandhi didn't take calls from President after 1984 riots broke out'
2. KIRAN DARES CONGRESS: Andhra Pradesh Chief Minister N Kiran Kumar Reddy on Wednesday threatened to quit politics if the Andhra Pradesh Reorganisation Bill, 2013, is tabled in Parliament in its current form.
Will quit politics if Telangana Bill is tabled in Parliament: Andhra CM, report by Janyala Sreenivas
3. EXPLORING INDIA: In 1956, at the height of the Cold War, two young PhD scholars, Susanne and Lloyd Rudolph, took an unusual route to their research topic: Indian democracy. Instead of relying on academic tomes, they decided to drive from Austria to India, in their Land Rover. Fifty-seven years on, that journey still continues.
57 yrs and discovering India: Padma Bhushan Mr & Mrs Rudolph, Irena Akbar brings you the story
4. CHALLENGING VERDICT: A week after the Supreme Court ruled that "delay is a ground for commuting death penalty to life sentence", the government is set to file a review petition against the verdict.
Govt to ask SC to review ruling on death penalty, reports Utkarsh Anand
5. WHAT AAP MUST DO: An anti corruption campaign has to identify corruption-prone sectors, analyse factors that enable it and eliminate them. Administrative reform should be AAP's focus, not sting operations.
How not to fight corruption, opinion by K Subramanyam
For all the latest India News, download Indian Express App