We recommend that you go through these five stories from The Indian Express before starting your day:
JUDICIARY VS GOVT:
On the day that the government introduced the Bill in the Lok Sabha to scrap the collegium system of appointing judges, Chief Justice of India R M Lodha on Monday defended the existing mechanism while lashing out at the "unfair" and "misleading campaign" to defame the judiciary and tarnish its image.
Don't defame judiciary… you do great damage to vital organ of democracy: CJI – report by Utkarsh Anand
WHO'S THE BIG BROTHER?
It's not just that he's clearly the elder in the 'big brother-younger brother' by-play that makes Lalu own the stage in their first joint rally in over two decades since they broke up. It's the way he strides in late surrounded by gun-toting commandos — Nitish stands up to welcome him and be hugged by him — and speaks last.
Special report by Santosh Singh and Vandita Mishra – New grand alliance in Bihar: Old Lalu bluster & pale Nitish shadow
LOST AND FOUND:
A rare 1,300-year-old stone Durga that disappeared from a small temple in Kashmir at the height of militancy in the mid-1990s has been located at the Linden-Museum in Stuttgart in southern Germany.
Stolen Valley Durga in Stuttgart, ASI builds case for its return – reports Sumegha Gulati
HANGING IN BALANCE: Debates on the collegium system generally start at the wrong place, namely, whether a national judicial commission will be a better alternative. Judges should be marginally outnumbered in the judicial appointments commission.
Raju Ramachandran's take on The current accountability deficit
CLICK HERE TO READ THE FULL SERIES
INDIA IN ENGLAND: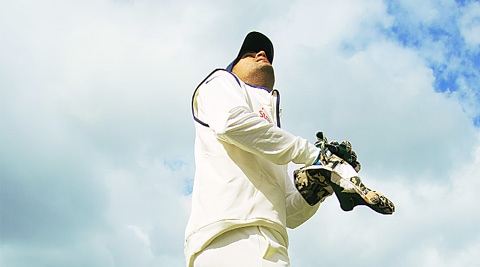 During the first three days of the Test, occasionally it would get sunny, but rest of the time the dark clouds would oversee the action at Old Trafford.
In search of a break, Sandeep Dwivedi reports from England
Full Coverage: INDIA TOUR OF ENGLAND
For all the latest India News, download Indian Express App