New Delhi |
Published: February 6, 2014 8:44:20 am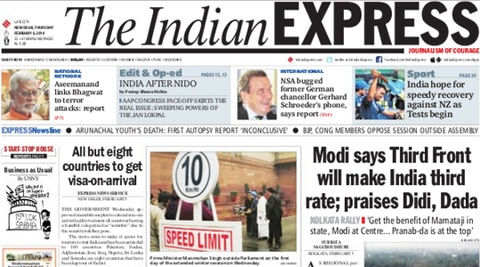 We recommend that you go through these five Indian Express stories before you start your day:
1. EX-AIR CHIEF IN DOCK: A former top official of tainted helicopter firm AgustaWestland has told an Italian court that Air Chief Marshal S P Tyagi was hosted in Milan by the top management of the company in 2007 when he was the chief of the Indian Air Force.
Chopper deal: AgustaWestland ex-official claims firm hosted S P Tyagi in Milan in '07, report by Manu Pubby
2. DOUBTING CLAIMS: Girish Chandra 'Gary' Saxena, the former IPS officer who headed the RAW at the time of Operation Bluestar in 1984, has said that there is "little credibility" in the speculation that the Prime Ministers of India and the UK were in direct contact to discuss the imminent operation at the Golden Temple.
Doubt if Indira, Thatcher discussed Op Bluestar, then RAW chief tells Ritu Sarin
3. BHAGWAT BEHIND ATTACKS: Swami Aseemanand, accused in the blasts in the Samjhauta Express (February 2007), Hyderabad Mecca Masjid (May 2007) and Ajmer Dargah (October 2007), has claimed that RSS chief Mohan Bhagwat had "sanctioned" the attacks.
Aseemanand links Bhagwat to terror attacks: Report
4. SEEKING PREZ INTERVENTION: As the Congress made it clear that the Bill to create Telangana would be brought in Parliament next week, its ministers from Seemandhra Wednesday made a last-minute attempt to delay the division by asking the Group of Ministers to give Hyderabad the Union Territory status.
Kiran Reddy, Jagan knock on Pranab door against division, reports Manoj C G
5. ANGER OVER NIDO DEATH: The self-proclaimed image of a tolerant society has often sidelined questions about racism in India. Nido's death reminds us of the transitions the Indian project still needs to make.
India after Nido, Opinion by Pratap Bhanu Mehta
For all the latest India News, download Indian Express App