Last year's riots still fresh in their minds, a growing number of Muslims in the Muzaffarnagar-Shamli area of Uttar Pradesh are selling their properties in the villages they have now abandoned to Jat neighbours at rates which locals admit are far below the market rates.
The authorities, however, say no distress sale has come to their notice and refuse to interfere, saying property sales remain a private affair.
The Indian Express found that in one village, Kankra, about 5 km from Kutba Kutbi, which saw eight murders and several riot-related cases, the majority of Muslims had sold their homes to Jats. On September 7 last year, three youths from the village who had gone to attend the Jat mahapanchayat, died after a clash broke out in Pulbaliyan village.
Fearing retaliation, 250 Muslim families fled their homes in the village and have since been staying at relief camps in nearby Muslim-dominated villages.
Village pradhan Ravinder Singh said in the past six weeks, 150 of the 250 Muslim families have sold their homes to Jat neighbours. "The situation is such that small incidents are taking communal colours — accidents, robberies, you name it. It has been like this for a year, in an area which never knew communal tension. So no matter what we say, the Muslims want to leave our village, and the Jats are not trying too hard to stop them either," Singh said. He said that every day "more Muslims are coming to me with requests to sell their property".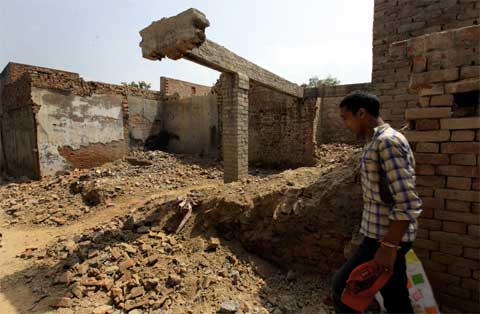 Damaged house of muslims, a …continued »