Soon after Prime Minister Narendra Modi delivered his maiden Independence Day address, the Congress tore into him, saying that his speech had no new ideas, schemes or initiatives. The party slammed Modi's announcement on disbanding the Planning Commission and said he got "bogged down by pedestrian issues".
Congress president Sonia Gandhi and vice-president Rahul Gandhi, who were at the Congress headquarters for Independence Day celebrations, did not comment when asked about Modi's speech.
Sonia hoisted the national flag at a subdued function, marked by low attendance.
Attacking the PM, Azad said, "Planning Commission was set up by Jawaharlal Nehru. It was working very well. The state governments had faith in it, different ministries had faith in it. I don't know if it is being done to usurp the powers of the commission and keep powers of financial distribution and allocation with him."
He also argued that the schemes announced by Modi were mere "repackaging" of the schemes initiated by the UPA government.
"Given that it was the first address of the new PM, one expected certain vision to be articulated by him on the trajectory of the next five years. But it is unfortunate that PM got bogged down by pedestrian issues without being able to rise to the occasion," former Union Minister Manish Tewari said.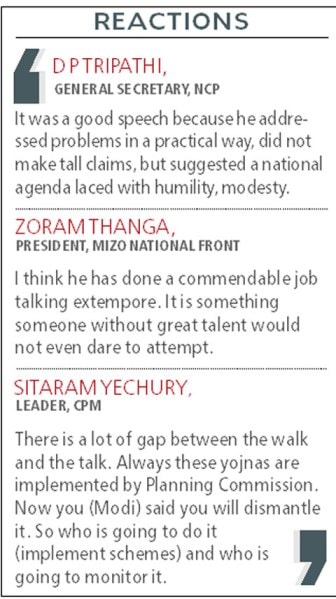 He said the PM "conveniently overlooked the issue of inflation", ignored cross border incursions by Pakistan, cartographic invasion by China and was "selectively amnesiac" about the BJP's own track record in fanning communal passions while talking about a moratorium on communal riots.
AICC general secretary Shakeel Ahmad called it a "zero effect" speech.  On Modi's call for ending communal and caste violence, he said, "His party is instigating all riots and conflicts at the ground level. The PM himself climbed the ladder through communal conflicts."
For all the latest India News, download Indian Express App