Written by
Sanjay Singh
| Dehradun |
Updated: August 16, 2014 3:46:19 pm
At least six persons were killed after a landslide led to the collapse of a two houses at Kathbangla locality of Dehradun city. However, a woman, who was pulled out from the damaged house, is struggling for her life in the Doon hospital.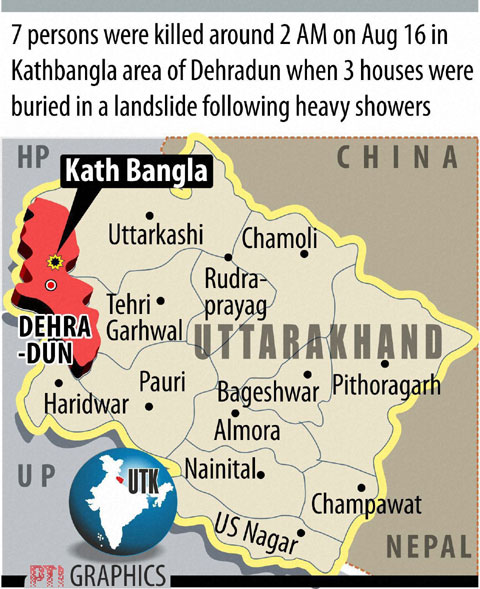 In the last 48 hours, Uttarakhand has lost at least 25 lives in separate incidents of landslides, cloudburst and flashfloods caused by the incessant rains. As per the Met department's latest prediction, heavy rainfall may occur at isolated places especially in Nainital and Pithoragarh in the next 12 hours beginning from 16th August morning.
Another major development is road blocks at various points on Chard Dham- Badrinath, Kedanrath, Gangotri and Yamunotri- route.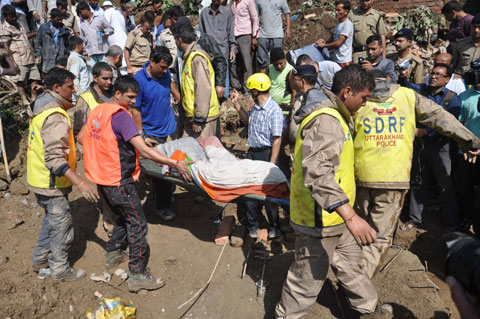 State administrating is trying to restore road connectivity with a village in Pauri district's Yamkeshwar Tehsil where about 200 villagers are struck. However, administration claimed that supply of necessary articles is being made to villagers.
It was pathetic site at the disaster site at Kathbangla locality of Dehradun city on Saturday morning. The rescue team, which had already pulled out five bodies, was trying hard to break the pucca ceiling of the collapsed house.
The neighbours had informed the rescue team that one Bahadur Chandola is trapped under the debris of collapsed house. Finally, Bahadur's body was pulled out by the rescue team. "After a gap of one week, he had returned to his house yesterday evening. He was ice-cream seller in the city," Ramtirtha Yadav, Bahadur's neighbor told the Indian Express. He further disclosed Bahadur had earlier stayed in a tin shade. "After seeing the incessant rain, he got shifted to the pucca house for the safety of his life. Unfortunately, his house faced the landslide and he got trapped inside the debris," Yadav said.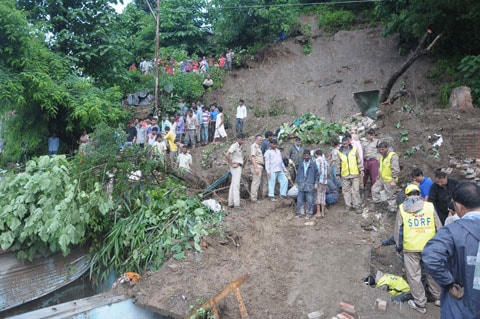 Dehradun is one city where poor people have developed their own colonies near Rispana River. "Politicians promote such people to develop their houses in such areas which are vulnerable to landslides. Deaths due to landslide are common in such colonies," another resident said on the condition of anonymity. Kathbangla locality is part of Municipal Corporation's ward number 1.
According to reports reaching the state emergency operation centre in Dehradun, road is blocked at Banswara near Soneprayag on route to Kedarnath. Similarly, Badrinath road is blocked near Lambagad and Pagalnala. "BRO is trying to restore road connectivity at all such points," a source in the government said.
In Pictures: Landslides and cloudburst in Uttarakhand
For all the latest India News, download Indian Express App