Assam violence: 29 dead, fear and panic grips Assam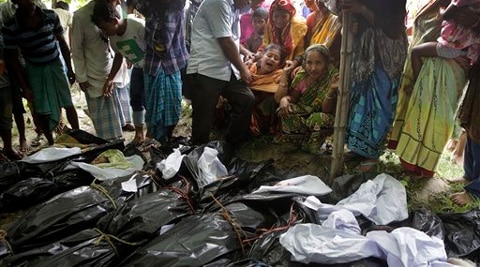 Relatives of victims killed in ethnic violence mourn at a burial ground at Narayanguri village, in the state of Assam on Saturday.
Ariful Islam, 8, was playing with his 18-month-old sister outside their bamboo-and-thatch hut in this small village on the fringe of Manas National Park on Friday afternoon when terror struck. Their mother Abida Khatun was washing utensils nearby.
"I heard a commotion and shouting. People ran helter-skelter. There were gunshots, and I saw several huts at the other end of the village were on fire," Abida said. "I picked up my daughter Sayeda, grabbed Ariful by his hand, and started to run towards the river, hoping to find a boat that would take us across."
As Abida and her children slipped and stumbled through the jungle along the river, the killers caught up with them. A bullet hit Ariful, he fell face first, and rolled into the water. Abida jumped in after him, clutching her daughter.
"Ariful had vanished. The swirling river was everywhere, and I could not see him. I searched and searched, but he was lost. The
Beki had washed him away," Abida said on Saturday, as she sat sobbing on a truck tyre in Raghabeel Bazaar across the river, where the survivors of Friday's massacre in the twin villages of Khagrabari-Narayanguri had taken shelter.
Police and the CRPF fished out several bodies from the river on Saturday, including that of Ariful. The official toll from two nights of anti-Muslim violence by suspected militants belonging to the NDFB (Songbijit) in the districts of Baksa and Kokrajhar in the Bodoland Territorial Council (BTC) area rose to 29 from 23.
Six bodies from Khagrabari-Narayanguri were found in addition to the 12 on Friday night. In two earlier attacks on Thursday night, militants had killed another 11 people — eight, including four women and three children, in Balapara village of Kokrajhar district, and three in Narsingpara village in Baksa district.
Ariful's body had two bullet holes, one in his left cheek, another in his abdomen. The police lay eight bodies in a row on the bank of the Beki. Five of the bodies were of children; two of women.
"I have not gone to see my son's body yet. I could not get myself to go," Abida said. Her husband Sahidul Islam (32) sat next to her, trying to console her.
Nine of the 18 bodies recovered in and around Khagrabari over Friday and Saturday were of children. Among the adult victims were two elderly women — 75-year-old Latifannessa, and 71-year-old Ayesha Khatun — and an elderly man, Ibrahim Ali (79).
Khagrabari is one of several dozen villages dotting the fringes of Manas National Park, a world heritage site about 250 km west of Guwahati. The journey involves crossing two streams of the Beki — a distributary of the Manas river that originates in Bhutan — which flows through the national park before falling into the Brahmaputra.
Imran Ali (70), said he had gone to Raghabeel Bazaar across the river along with most other adult males of the village at the time of the attack. "We stood helplessly on this side of the river as our family members were killed and our houses were set on fire. It was only around 6 pm, after the police and CRPF arrived, that we could get back to the village," Ali said.
He said he was still searching for his wife Banu Begum (60). "I don't know where she is, or whether she is dead or alive. The body of one of my grandsons was recovered today," he said on Saturday afternoon.
The oldest of the children whose bodies have been found was 13. The youngest was a four-month-old baby.
"The adult males mostly survived because they were away," Khagrabari gaon-burha (village headman) Shah Alam, 41, said. On Saturday, Alam was helping the authorities prepare a final list of the dead, injured and missing. One of his brothers was in the last category.
The survivors of the massacre were clear what had brought death upon them. "It is simple. We cast our votes on April 24, and some Bodo groups think that we did not vote for their candidate," said Jainuddin, 35, who has lost his eight-year-old daughter Jaigunnessa, and was looking for his wife Maifannessa.
The population of Khagrabari, according to the 2011 census, was 208, and its 56 dwellings had 180 voters, who are believed to have voted mostly in favour of a candidate who does not belong to the Bodo tribe. Khagrabari is in Baksa district, and part of the Kokrajhar (ST) Lok Sabha constituency.
Sub-divisional police officer (SDPO) Rupam Phukan, who has been camping in the village since Friday evening, said, "Only an inquiry will be able to ascertain the motive behind the attack. All that we have gathered so far is that nine or ten militants in Army fatigues came to the village from its western side, carrying AK weapons."
Police have recovered several empty AK cartridges.
The Assam government on Saturday rushed more forces to Kokrajhar, Baksa and adjoining districts. The Army is already out in the area. In the evening, an emergency meeting of the cabinet chaired by Chief Minister Tarun Gogoi said the state would ask for a probe by the National Investigation Agency (NIA).
"Anyone found involved in the heinous and dastardly crimes would not be spared. The NIA investigation will help to unearth the truth behind the gory incidents," an official statement quoting Gogoi said.
Meanwhile, Border Affairs Minister Siddique Ahmed said on Saturday that a purported statement by Bodoland People's Front (BPF) MLA and former agriculture minister Pramila Rani Brahma that Muslim settlers had not voted for her party, had aggravated the situation.
The NDFB (Songbijit) denied involvement in the killings. In a statement issued on Saturday evening, the group asked the "Assam government to stay away from such accusation without the slightest justification".