Assam violence: 29 dead, fear and panic grips Assam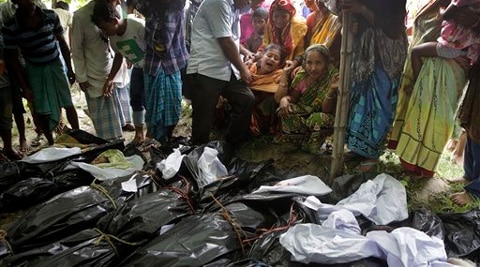 Relatives of victims killed in ethnic violence mourn at a burial ground at Narayanguri village, in the state of Assam on Saturday.
Ariful Islam, 8, was playing with his 18-month-old sister outside their bamboo-and-thatch hut in this small village on the fringe of Manas National Park on Friday afternoon when terror struck. Their mother Abida Khatun was washing utensils nearby.
"I heard a commotion and shouting. People ran helter-skelter. There were gunshots, and I saw several huts at the other end of the village were on fire," Abida said. "I picked up my daughter Sayeda, grabbed Ariful by his hand, and started to run towards the river, hoping to find a boat that would take us across."
As Abida and her children slipped and stumbled through the jungle along the river, the killers caught up with them. A bullet hit Ariful, he fell face first, and rolled into the water. Abida jumped in after him, clutching her daughter.
"Ariful had vanished. The swirling river was everywhere, and I could not see him. I searched and searched, but he was lost. The
Beki had washed him away," Abida said on Saturday, as she sat sobbing on a truck tyre in Raghabeel Bazaar across the river, where the survivors of Friday's massacre in the twin villages of Khagrabari-Narayanguri had taken shelter.
Police and the CRPF fished out several bodies from the river on Saturday, including that of Ariful. The official toll from two nights of anti-Muslim violence by suspected militants belonging to the NDFB (Songbijit) in the districts of Baksa and Kokrajhar in the Bodoland Territorial Council (BTC) area rose to 29 from 23.
Six bodies from Khagrabari-Narayanguri were found in addition to the 12 on Friday night. In two earlier attacks on Thursday night, militants had killed another 11 people — eight, including four women and three children, in Balapara village of Kokrajhar district, and three in Narsingpara village in Baksa district.
Ariful's body had two bullet holes, one in his left cheek, another in his abdomen. The police lay eight bodies in a row on the bank of the Beki. Five of the bodies were of children; two of women.
"I have not gone to see my son's body yet. I could not get myself to go," Abida said. Her husband Sahidul Islam (32) sat next to her, trying to console her.
Nine of the 18 bodies recovered in and around Khagrabari over Friday and Saturday were of children. Among the adult victims were two elderly women — 75-year-old Latifannessa, and 71-year-old Ayesha Khatun — and an elderly man, Ibrahim Ali (79).
Khagrabari is one of several dozen villages dotting the fringes of Manas National Park, a world heritage site about 250 km west of Guwahati. The journey involves crossing two streams of the Beki — a distributary of the Manas river that originates in Bhutan — which …continued »