Anantang records 28 percent polling amid boycott call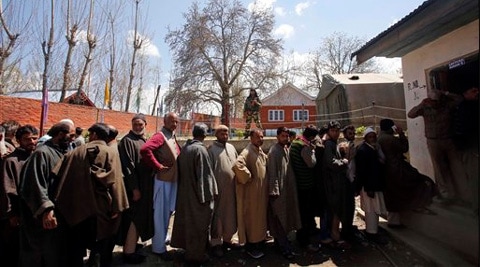 Voters stand in a queue to cast their votes at a polling station at Damhal Hanji Pora, about 85 kilometers south of Srinagar. (AP)
The Anantang parliamentary constituency recorded a 28 percent polling amid boycott call in some urban pockets. However, there were long queues in the far-off villages of Kulgam as the constituency went to polls on Thursday.
The highly guarded polling stations at Pulwama were deserted and youth were watching from a distance throwing stones occasionally towards the police and paramilitary men deployed outside the polling booths.
As a result of stone pelting and the fear gripped after militants killed three people – a Sarpanch, his son and a village head in Tral area of the district – two days ago, even the polling agents of the political parties didn't turn up at some polling stations.
Shopian was no different. At 9 in the morning, no vote had been polled at Cooperative Store Shopian even as 1210 voters were registered with the polling station.
In many parts of Shopian, a stronghold of Peoples Democratic Party (PDP)
youth alleged that police was trying to enforce the boycott. "Some of us were contemplating to vote today," said a group of youth out on the roads at Vehil, Shopian. "But last night, the Station House Officer came here, fired tear smoke shells, ransacked houses and damaged out vehicles. Now nobody is going to vote" the added.
The scene in some areas of Kulgam was in contrast to Shopian. At Hendan-Chawalgam, men and women were jostling to get inside the polling booth to cast their vote. By 10 in the morning, 167 out of 800 votes had been polled at the polling station.
The carnival, however, was visible at Noorabad, the home constituency of National Conference leader Sakina Itoo. At Damhal, 256 votes had been polled by 11 am with female voters outnumbering men. Another 200-300 voters, mostly women, were pushing each other to get a chance to vote. "We are here to vote for Madam (Itoo)," said Mymoona, a villager.
The Kulgam town was indifferent with most of the people staying away from the polling stations and youth engaging in pitched battles with police.
The turn-out was low in the villages that are dominated by the Jamat-e-Islami. In a polling station at Qaimoh, a Jamat stronghold only 54 votes out of 767 had been polled by noon. In past, a large number of residents in the Jamat bastions had voted for opposition PDP.
The low voter turnout especially in the areas dominated by the Peoples Democratic Party has put the outfit on a shaky wicket in south Kashmir – an area they consider as their stronghold.
The party, however, has one consolation – the voter turnout in the two Congress bastions of Kokernag and Dooru was comparatively low and most of the Congress voters didn't turn-up to vote …continued »