Written by
Shyamlal Yadav
| New Delhi |
Updated: August 30, 2014 9:10:43 am
The Ministry of Agriculture has begun a review of the functioning of all 639 Krishi Vigyan Kendras (KVKs) in the country to detect — and put an end to — the "mismanagement of public money" by these institutions.
At a meeting held over August 19-20 at the Indian Council of Agricultural Research (ICAR) in Delhi, Minister of State for Agriculture Sanjeev Balyan warned KVKs to improve their functioning or face "consequences".
KVKs were envisaged as a mechanism to impart vocational training to practising farmers, school dropouts, and other individuals involved in field-level agricultural activities.
Beginning in 1974, when the first KVK was established, these institutions are now spread over 600 districts, the largest number — 68 — being in Uttar Pradesh.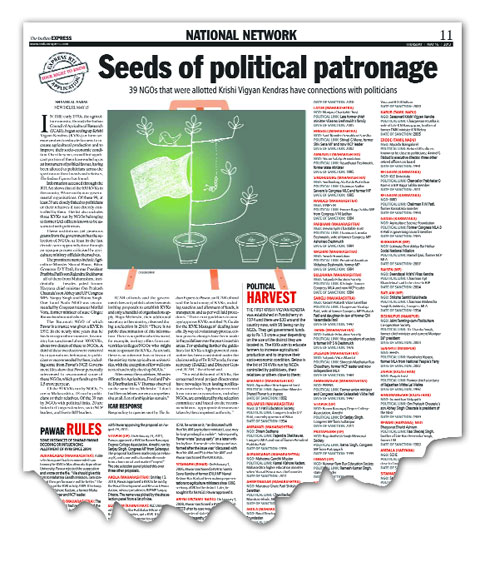 "I have noticed a lot of mismanagement of public money in the KVKs run by NGOs as well as the KVKs run by agricultural universities. Over the next two-three months we will conduct a complete review of all KVKs and grade them according to their performance. KVKs can help uplift ordinary farmers by contributing to the expansion of technology, but I have found that many of them are not working properly and misusing public money," Balyan told The Indian Express.
Balyan's review this month was for 100 KVKs in tribal districts. Balyan said he would calling such meetings of all other KVKs in batches over the next few months.
About 7 out of every 10 KVKs are run by state and central agricultural universities. Around 100 KVKs are run by NGOs, including NGOs controlled by politicians.
Using information obtained under the Right to Information (RTI) Act, The Indian Express had reported in its edition of May 16, 2013 that proper procedure was often overlooked in the allotment of KVKs, and that former agriculture minister Sharad Pawar had personally intervened to recommend some NGOs which received funds of up to Rs 1.5 crore per year.
The KVKs are seen as a crucial instrument for fulfilling promises made by the NDA government. At the meeting, Balyan reminded representatives of KVKs that Prime Minister Narendra Modi had at an ICAR function last month noted that "until the farmer does not receive the benefits of scientific and technological developments, true progress will remain incomplete", and that the farmer must be made aware of the crucial importance of conserving water.
Balyan said that the government could sanction more KVKs in districts that needed them, but only after reviewing the performance of existing KVKs. He said delegates at this month's meeting had been told that employees hardly visited offices at several KVKs. "I have asked that proper records of attendance be maintained, and some of KVKs have started doing so," Balyan said.
For all the latest India News, download Indian Express App