AAP becoming too 'aam' for a party: Here's why
AAP seems to be losing ground just at the time when it is about to make its debut on the national stage. (Express Photo: Amit Mehra)
All is not well with Arvind Kejriwal's Aam Aadmi Party. From growing dissent in the party to its leaders facing the heat over various issues, the party, which originated as an anti-corruption movement, seems to be losing ground just at the time when it is about to make its debut on the national stage. If the recent developments are any indication, the party, which was perceived to be different and cashed it in this perception initially, seems to be no different from its counterparts.
On Tuesday, AAP leader Shazia Ilmi refused to contest from Rae Bareli fuelling speculations of growing dissent in the party over ticket distribution.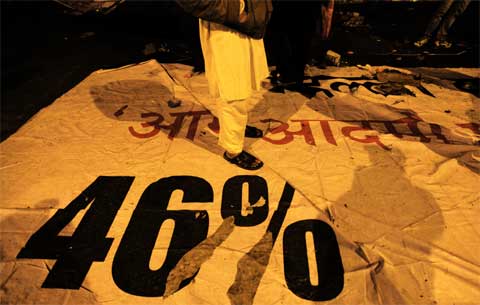 On the same day, educationist and child rights lawyer Ashok Agarwal resigned from the AAP, saying the party has become 'directionless' and that it was promoting "elite individuals." In his letter to Kejriwal, Agarwal stressed that the party was losing its vision. The resignation on such grounds not only discredited the party but also its leadership.
With each passing day, the party, created for providing a political alternative is beginning to look like any other party.
There are strong factors for party's imminent downfall. Here are a few recent instances when Aam Aadmi Party found itself on a slippery ground.
1. TUSSLE OVER TICKET: AAP leader Shazia Ilmi expressed her displeasure over party's offer to contest from Rae Bareli saying that she 'never agreed' to contest against Sonia Gandhi. Ilmi expressed her willingness to fight from Delhi. "I am not contesting from Rae Bareli. I never agreed to nor do I now… I've been denying this for the last two months," she tweeted. Reports also surfaced about Kumar Vishwas' rift with the party over ticket distribution. However, both leaders denied reports, saying they were not upset with the party.
Im not contesting fro Rae Bareilly . I never agreed to nor do I now .. I've been denying this for the last two months.

— shazia ilmi (@shaziailmi) March 11, 2014
2. AGARWAL UPSET WITH AAP: In a jolt to the party, national executive member of AAP and eminent educationist Ashok Agarwal resigned from the party saying it worked like a "private limited company" with an aim to promote "elite individuals." In a strongly-worded letter to party leader Arvind Kejriwal, Agarwal pointed that the movement has become 'directionless' and objectives for which AAP was created are getting lost. Agarwal, who is also a child rights lawyer, cited AAP's contentious Lok Sabha ticket distribution, as the main …continued »