Written by
Nisha Nambiar
| Pune |
Updated: June 26, 2014 1:22:11 pm
With the cumulative rainfall recorded in the country till June 24 being 38 per cent below the long period average, this year will be only the twelfth time in the last 113 years (1901-2013) when there has been over 30 per cent deficiency of rainfall in the country in June.
While the Met department is hopeful of a revival of the southwest monsoon in the first week of July, the country has seen a rainfall deficit in all the regions — northwest, central parts, south and eastern parts. Earlier, an IMD analysis had said rainfall as a whole was likely to be 93 per cent of the long period average. "From the date of onset of monsoon in Kerala on June 6 till June 24 only 62 per cent rainfall has been realised. The 72.7 mm rainfall recorded means a deficiency of 38 per cent in all divisions,'' said Dr D Sivananda Pai, Director Long Range Forecast from India Meteorological Department, Pune.
With the realised rainfall being less in all divisions, the lowest was recorded in the central parts followed by northwest India, east and north east India and southern parts.
While rainfall is to revive in July, met officials have said statistics show there has only been four instances in the month where deficiency has been more than 30 per cent.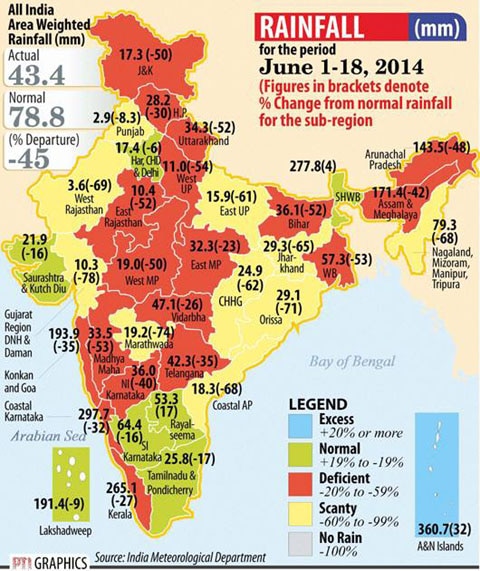 Govt hikes paddy MSP by Rs 50/quintal
NEW DELHI: Unfazed by the fear of below normal monsoon, the government Wednesday announced only marginal hike in minimum support price (MSP) of paddy. The Cabinet Committee on Economic Affairs Wednesday approved Rs 50 a quintal hike, which is less than five per cent, in normal grade paddy over previous year's Rs 1,310 a quintal. "Paddy MSP has been hiked by Rs 50 to Rs 1,360 per quintal for 2014-15 crop year," Law and Telecom Minister Ra-vi Shankar Prasad announced after the CCEA meeting Wednesday.
He said the Grade 'A' paddy MSP has been hiked by Rs 55 a quintal to Rs 1,400 a quintal. The Commission on Agricultural Costs and Prices (CACP) had made recommendation to this effect before the met department came out with below monsoon prediction. Though below normal monsoon may add to the costs of irrigation of paddy, the CCEA appeared to have ignored this factor. ENS
For all the latest India News, download Indian Express App