Written by
Nitin Sharma
| Chandigarh |
Published:September 17, 2016 5:18 am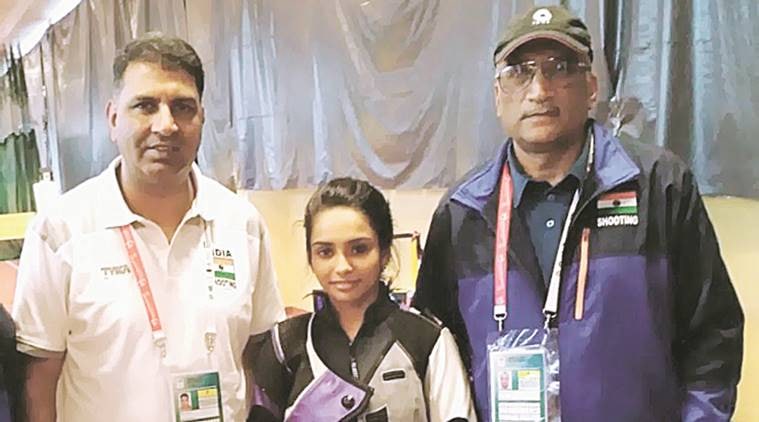 FOR THE last eight years, Chandigarh's Vinita Bhardwaj trained with her 10 M Air Rifle. Alongside, the 22-year-old underwent four surgeries for club foot.
On Friday evening, Bhardwaj, who represents Haryana, became the world champion in 10 M Air Rifle event in the FISU World Universities Shooting Sport Championship at Bydgoszcz, Poland, edging out Rio Olympics bronze medallist Li Silling of China. Silling is 2012 London Olympics gold medallist and Rio Olympics bronze medallist. The Chandigarh shooter shot a score of 206.0 in the final to claim the gold medal with Silling shooting a score of 205.6. Vinita suffers from third degree STEV virus in right foot.
"I am on top of the world. Yes, it has been a challenge for me and to defeat the Rio Olympics bronze medallist is the biggest moment in my career. This medal has come after four surgeries on my club foot. I could not stand in the ranges for more than two hours. Competing in Europe is tough for me and sometimes my foot swells and I have to take injections. But this medal has ended all the pain. I am standing with pride at the podium here," said Vinita, who studies in BA final year at DAV College, Chandigarh.
Vinita fired final shots of 10.6 and 9.7 as compared to Siling's 9.8 and 10.3.
Vinita started shooting under coach Deepak Dubey in 2008. With her father Col S K Bhardwaj posted in the Army, Vinita had applied for Mission Olympics Programme of the Indian Army. But the youngster had to face rejection due to the club foot, a physical deformity since birth. Training in Chandigarh and Delhi, Vinita soon made it to the Indian junior team for Shooting Hopes Tournament in Czech Republic and Junior World Cup in Germany in 2011.
Vinita also took part in the 2013 edition of the World University Games held in Russia. Last year saw her win the gold medal in civilian category with a score of 416.7 in the Senior Nationals Shooting Championship in Delhi.
Last week, she was among one of the top five shooters in the 10 M Air Rifle trials IV and is now ranked 11th in India in the latest rankings issued on combined trial scores list released by the National Rifle Association of India on Friday.
"I started under Indian rifle coach Yuvraj and then Deepak Dubey sir would help me in advance training at the ranges. When my name was rejected for the Mission Olympics scheme of Indian Army, I was initially sad but then I focused on my training. Participating in the Shooting Hopes Championship and Junior World Cup in Germany boosted my confidence and it also taught me to adjust to different weather conditions. Last year when the shooting range at Panjab University was inaugurated, it was a big help for us as well. Most of the tournaments in India happen in winter and my feet would swell in winters and I had to take injections. Amandeep sir has been coaching me at the university. Competing with fellow shooter Anjum Moudgill also helped my game. My role model has been London Olympics silver medallist Ivana Maksimovic and I want to emulate her in the international arena," said Bhardwaj.