Written by
Apurva
| Bhatta-parsau |
Updated: November 25, 2016 5:56:49 am
THE six-lane Yamuna Expressway turns off into a zero-lane dirt road. Past skyscraper shells in varying stages of completion, sprawl green tracts of pristine farmland. SUVs and luxury cars fight for space with bullock carts and autorickshaws ferrying three times the passengers they were meant to hold.
And then, you hit that line.
The long line outside the only branch of the only bank that serves the 20,000 voters of Bhatta-Parsaul, the twin villages that embody the contrasts of Greater Noida. Where the urban mingles with the industrial and then blurs into the rural which fights to reverse the chain.
Watch What Else Is making News
In 2011, this was Ground Zero of violent protests against land acquisition for the expressway by the BSP government in Uttar Pradesh under Mayawati. Five years later, the Samajwadi Party is in power, Greater Noida has moved on, the Expressway connects Delhi to Agra in under four hours, and the battle for the heartland has begun as another assembly election is around the corner.
But in Bhatta-Parsaul, the talk today is all about the cash crunch, slow business and increasing credit lines at shops, coaching centres, fertiliser markets, the police station and in homes.
Glaringly obvious is the financial hardship. Also glaringly obvious is many people speaking up in support of what "Modiji has done". The moral high of being part of a nationwide narrative, of taking part in the fight against black money.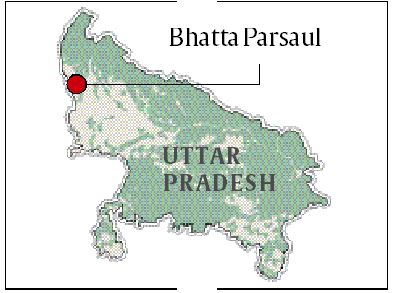 Scratch the surface and you will find the contours of a curious dilemma, one that residents hope to resolve, or hope it will be resolved, by the time they have to line up again — to cast their votes.
Everything, says one resident, depends on how the Centre's demonetisation policy plays out over the next few weeks.
At the centre of Bhatta, at the site of the 2011 protests, a loudspeaker is still tied to a telephone tower, a tattered election poster hangs by its last nail on the boundary wall. A small two-room structure has come up here — one with a bed, a TV and an earthen pot; the other, bigger room is a portal to the past, with rusted microphones, posters that have turned yellow and loudspeakers gathering dust.
Kale Singh, the owner, points to a row of skyscrapers under construction in the distance. "Look below and you will see the Expressway. That is all our land. The government took our land and built that road for people like you from Delhi. And what did we get? Ten days of television, headlines and weeks of police deployment," he grumbles.
Those were the days when Rahul Gandhi, then heading the Youth Congress, camped here, even embarking on a padyatra in support of farmers seeking enhanced compensation and made land acquisition a key election issue. But the Congress candidate from Bhatta-Parsaul, Dhirendra Singh, lost the 2012 assembly election making way for the BSP's Vedram Bhati.
So what will 2017 bring? Singh is wary. "Rahul Gandhi came here and became famous. We support him for championing our cause. But I have my doubts this time. Since that agitation and the failed 2012 campaign, we have never seen him. I watch him on TV and tell my relatives that he once sat on my land with me," he says.
But then, Singh has little time to chat. With labourers to pay, seeds and fertilizer to buy and a family to feed at home, he has to make it to the Bhatta branch of Punjab National Bank.
At the branch, it's 1.50 pm, and the staff is yet to take a lunch break. The shutters are down and inside, men and women stand in separate queues at the cashiers. Outside, a larger crowd waits for its turn. Customers outside vent their ire on three policemen on security duty who offer sympathetic shrugs — they have not withdrawn any money either.
"We are doing the best we can," says a bank official. "But this village is better than others. Here, they made their own rules — separate queues for women and tokens. They also decided that customers would share the amount in the bank every day. If we have Rs 1 lakh, then 50 customers will withdraw Rs 2,000 each."
There is an ATM outside but it hasn't worked for two years now and most villagers have little use for ATM or debit cards. "They tell me it's easier. But how? I have seen lines outside the ATM in Dankaur nearby. It never ends and it never has money. At least a bank official gives me some information here," says Jitendra Singh, waiting outside the bank.
Caught off guard, the SP, BSP and Congress have found campaigning and canvassing for votes hard, especially with little or no input or directions from their high commands.
According to Devendra Singh Chowdhary, the SP Jat Sabha secretary, the party has been helping people in queues. "There is no other issue here. Right or wrong, good or bad, we are all in the same boat," he says. The Congress and BSP have adopted the same approach.
Dhirendra Singh, the Congress candidate in 2012, explains: "For the foreseeable future, no other issue matters. The BJP has set the agenda and it depends on how this plays out. If currency is not injected into the market over the next two weeks, there will be protests but if things go right, the BJP will be the party to beat in the assembly elections," he says.
Another Congress leader, Tanu Chauhan, who runs a coaching academy in the Dankaur, agrees. "Cutting down black money is a good move. It affects everybody and is hard to speak against. I am waiting for orders from my party leader in Delhi. Most people say it's a good move, some say nothing will change. I don't know what to really say," he says.
Voters here face the same contrasts that Greater Noida mirrors. "I am confused. Should I vote for a leader in Uttar Pradesh or for Prime Minister Narendra Modi? Should I vote for improvement in health, education and transport, which Chief Minister Akhilesh Yadav has managed in five years, or for Modi's party? It's a tough choice, the next two weeks are crucial," says a senior police officer, on condition of anonymity.
Even before demonetisation, it was the BJP that led the news cycle, say residents. "Before November 8, people were talking about the surgical strike and Pakistan. And before that, it was Kashmir. The BJP sets the agenda, we have to explain what it means to the voters," says Chowdhary.
And then, how will he do that? He lists the questions he asks voters when they talk about demonetisation. "If this is going to stop black money, why print a Rs 2,000 note? Why should you have to stand in line for your own hard earned money, when those with black money have already invested in real estate or gold? You have been standing in line for ten days, how many black-money hoarders have you come across?"
The police officer chips in. "I have spent my life in service and my family has sent several jawans to the Army. You can conduct a surgical strike, but parroting it as your own achievement is at your own peril. These people are putting up posters thanking politicians for the strike, when none of their sons or family members is in the forces. People don't like this," he says.
A shopkeeper on the main road in Bhatta says, "Akhilesh started the 108 ambulance service, increased job recruitments and built better roads. Mayawati brought development to Noida. In Narendra Modi, the BJP have a strong leader working for the nation and the Congress has its legacy. It's a tough choice for us. I tell all parties I will surely vote for them. In the end, I will be in the voting booth on my own and nobody will know what I do."
(Tomorrow: In Aligarh and Mathura, a common strand)
For all the latest India News, download Indian Express App