Eight people who were trapped inside a medical imaging centre died of suffocation after a fire broke out at a nearby godown where firecrackers were being unloaded, near Sivakasi in Tamil Nadu, on Thursday afternoon. The incident occurred at around 1:30 pm, on the Sivakasi-Virudhunagar road.
A senior police officer said the fire was triggered by friction while unloading the firecrackers.
"The firecrackers in the mini van caught fire while unloading. It soon spread to the firecracker godown and the entire building went up in flames. Although the labourers and nearby shopowners managed to flee before smoke engulfed the area, 41 people at a nearby medical scan facility were trapped inside. They were unable to come out as the pathway outside the building was on fire," said the officer.
Watch what else is making news
When the police and residents managed to break open a window, most of those trapped inside the building, including patients, doctors and medical staff, were found to be unconscious. About 25 people were rescued and shifted to nearby hospitals.
District Collector A Sivagnanam said that six of the eight victims were women. Six employees of the medical centre were among the victims. "None of them suffered burn injuries. A few were sent to Madurai Medical College for further treatment," he said.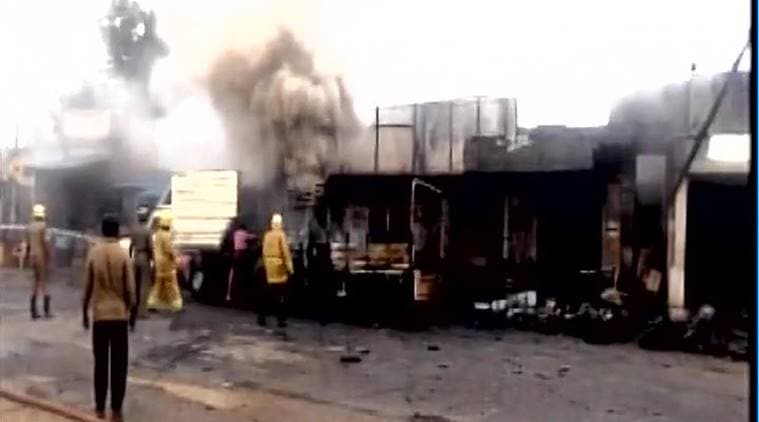 Police have booked Anand Raj and Sembaga Raman, who owned the licence to run the firecrackers' godown. Asked about allowing a firecrackers' godown near a medical facility in violation of the rules, Sivagnanam said that a probe has been ordered.
"The Department of Explosives (which comes under the Union government) had given the licence. Initial evidence suggests that it was the mishandling of the bundles of firecrackers that led to the accident," Sivagnanam said.
Sivakasi, a town in south Tamil Nadu, produces 85 per cent of the total firecrackers in the country. The Rs 3,000-crore industry has over 800 factories and over two lakh employees.
For all the latest India News, download Indian Express App