Written by
Anil Sasi
| New Delhi |
Published:September 21, 2016 3:26 am
The decks have been cleared for state-owned Nuclear Power Corporation of India Ltd (NPCIL) to launch nuclear ventures in collaboration with three other public sector firms, with the NDA government planning to designate upcoming atomic power projects with foreign technical cooperation to be set up through these joint ventures.
Official sources indicated that this is likely to be the pattern followed for all new projects that are slated to be set with foreign technical cooperation, beyond the Kudankulam units that are already being set up with Russian assistance. Discussions in this regard with the prospective JV partners — cash-rich state-owned energy utilities NTPC Ltd, Indian Oil Corporation and Nalco — have been initiated, sources involved in the exercise said.
Watch What Else Is Making News:

The decision to leverage the JVs for new projects being set up under the foreign collaboration route marks a departure from the current strategy followed by the country's nuclear establishment, where atomic power reactors are executed solely by NPCIL and are funded by a mix of debt and equity leveraged by the nuclear power utility. Sources indicated that the broader view within the nuclear establishment earlier was to deploy all the three JVs for new projects being set up based on the indigenous Pressurised Heavy Water Reactor, or PHWR, technology. The plan to deploy the JVs for new imported light water reactor, or LWR-based projects to be set with foreign technical cooperation, could thereby, mark a change in strategies and potentially result in the pooling of additional equity worth nearly Rs 30,000 crore for expanding the country's installed nuclear power capacity.
NPCIL is currently working on plans to commence work on 16 new reactors with a total capacity of 16,100 MWe (mega watt electric) within the five year period ending March 2017. These include eight indigenous PHWRs of 700 MWe each with a total capacity of 5,600 MWe and eight LWRs based on international cooperation — with Russia, France and the US — totaling at a capacity of 10,500 MWe.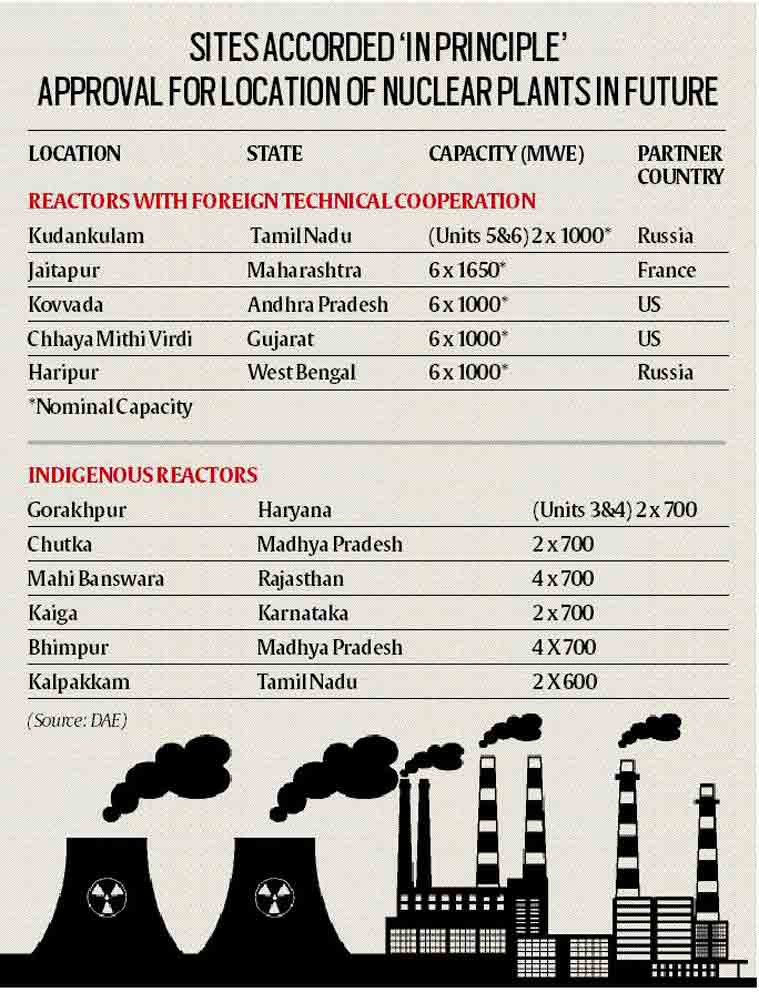 Earlier, in January this year, the Atomic Energy (Amendment) Act was one of the five legislations that got the President's approval, thereby ensuring the legal framework for NPCIL to launch collaborations with the three other public sector utilities. The move to leverage the JVs comes amid festering concerns over India's nuclear liability provisions holding up the deployment of imported light water reactor-based projects in collaboration with global vendors. The proposal by NPCIL to strike joint ventures with cash-rich PSUs is being seen as an alternative strategy to tide over the paucity of funds and ramp up execution capability for new projects using the indigenous pressurised heavy water reactor technology.
At present, only two PSUs — NPCIL and Bharatiya Nabhikiya Vidyut Nigam Limited (BHAVINI), which are under the control of the Department of Atomic Energy, can operate nuclear power plants in the country. The Atomic Energy Act, 1962, prescribed that a company in which not less than 51 per cent of the paid-up share capital is held by the Central government can operate nuclear stations. However, the licensing of joint ventures was a grey area. The new law amends the Atomic Energy Act, 1962, to change the definition of a "government company" as described in the Act with a view to widen its scope. The JV firms with these three public sector energy majors — Anushakti Vidyut Nigam Ltd (NPCIL and NTPC), NPCIL-Indian Oil Nuclear Energy Corporation Ltd and NPCIL — NALCO Power Company Ltd have already been incorporated.
Currently, nuclear power reactors are being funded by a mix of debt and equity and are executed by NPCIL, with the equity requirements being met from internal resources of the NPCIL, a PSU under the DAE, and domestic budgetary support, officials involved in the exercise said.
The leveraging of NTPC, IOC and Nalco's project execution capabilities is part of the DAE's medium-term plan. Under the short-term capacity expansion programme, the NPCIL is already working on ramping up the existing capacity of 5,780 MWe by three folds by the year 2023-24. While NPCIL itself has about Rs 12,000 crore of investible surplus, the three other PSUs, including NTPC, Nalco and IOC, have broadly agreed to bring in Rs 10,000 crore each. The plan entails IOC, NTPC and Nalco each picking up 49 per cent equity in atomic projects proposed to be set up in partnership with NPCIL, which will hold majority equity in the three proposed ventures.
NPCIL currently operates 21 reactors with a generation capacity of 5,780 MWe and another 1000 MWe reactor at the Kudankulam project in advanced stages of commencing commercial operations. "Of the 20,000 MWe target for 2020, NPCIL, with Rs 12,000 crore surplus, can manage only about 10,000 MWe of new capacity through its own resources. Hence, funding from other sources is needed to supplement NPCIL's efforts and the best candidates are PSUs, especially those in the core sector with strong financials and cash flows," an official said.