By:
PTI
| Kathmandhu |
Updated: November 2, 2016 7:19:35 pm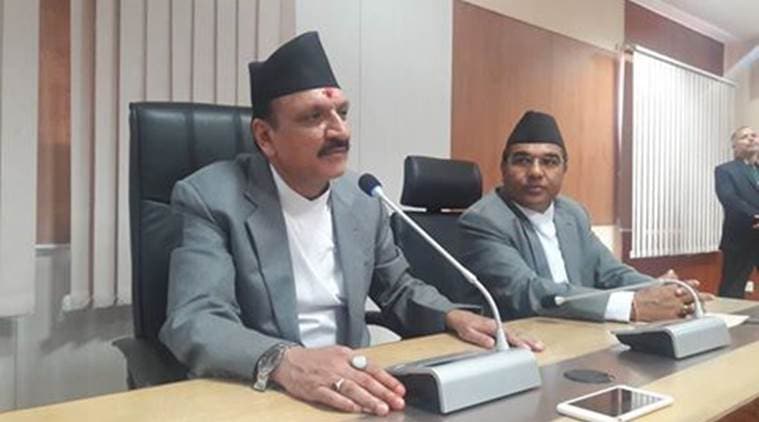 On Wednesday, Nepal condemned terror in all its forms and asserted that no country should let its territory be used against any other state as it acknowledged that Indo-Pak tensions were harming SAARC. In an interaction with the media at a reception hosted in the honour of President Pranab Mukherjee by Indian Ambassador Ranjit Rae in the sprawling laws of India House, Nepal Foreign Minister Prakash Sharan Mahat said Nepal is against terrorism in all its forms. He was responding to a question on terror perpetrated by Pakistan in India despite condemnation from international community.`
"We are against terrorism in all forms. No matter what causes terrorism. Terrorism is terrorism. We condemn that and we will like to work together against terrorism. No country should let its territory to act against any other country. It should totally be discouraged and those who process terrorism be eliminated," he said. When asked whether the tensions between India and Pakistan are affecting South Asian Association for Regional Cooperation (SAARC) of which Nepal is presently the Chair, he said "definitely" because SAARC works on consensus.
When two countries do not agree on something and major bilateral issue arises it definitely harms SAARC, he said. Recently, SAARC summit scheduled in Islamabad was cancelled following the attack by terrorists on Uri Army camp in which 19 Indian soldiers were killed. Nepal as the Chair of SAARC had issued a stern statement condemning cross border terror. When asked whether there is any move to shift the venue of SAARC, Mahat said, "We need to discuss. Even Pakistanis agree that current situation is not conducive. Everybody has to agree. It is still not mature…No decision to shift SAARC venue. We have had discussions with Pakistan, India and other countries and everybody feels time is not right for the Summit."
When asked about China, he said there are many facets of relations with India and there is "no need to compare". "We want to have good relations with both our neighbours," he said. President Mukherjee is on a three-day visit — the first by an Indian President in 18 years. He was received on Wenesday at the Tribhuvan International Airport by his counterpart Bidya Devi Bhandari. The two leaders later went to Shital Niwas — official residence of the Nepal President.
The experts see this visit as a "goodwill visit" as Mukherjee in his different capacities in the Indian government closely saw "evolution of democracy" in Nepal.
For all the latest India News, download Indian Express App