Indian Navy was put on highest alert in Mumbai after two school children claimed that they saw suspicious movement near Uran naval base. The students said that they they saw five suspected persons in black uniform wholly covered and carrying long weapon and a bag.
Police said that two school children claimed that they saw a group of 5-6 men dressed in black carrying arms near the navy base. The student of UES school in Uran first informed the principal following which the police was alerted. The school has declared a holiday tomorrow.
The police has confirmed combing a part of the Uran area of Navi Mumbai to verify suspicious looking men seen by the students. "Two students have informed that they have seen suspicious men in Uran. While one student has claimed of spotting one person, the other has claimed to have seen five. Post the information, multiple agencies are probing it," said DGP Satish Mathur.
Navi Mumbai police outside the school where students claimed of seeing a group of armed men, near Naval base in Maharashtra's Uran pic.twitter.com/lrFFVC6Zqe

— ANI (@ANI_news) September 22, 2016
At around 11 am ,students said they saw 4 men in Pathan suit type dresses talking to each other in a different language: Navy sources

— ANI (@ANI_news) September 22, 2016
They were spotted by students opposite to the Naval base,as per students they heard the men say 'ONGC' and 'school' repeatedly: Navy sources

— ANI (@ANI_news) September 22, 2016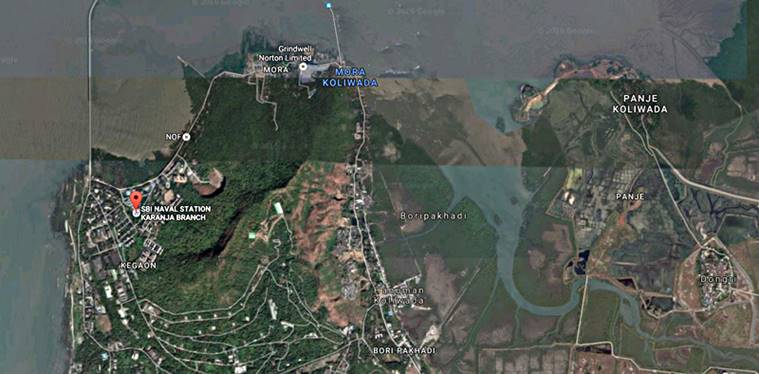 The Commissioner Police of Navy Mumbai said that the school kids are being questioned while ATS are verifying the credentials of their claim.
In pics: Security heightened in Mumbai
State 1 alert was ordered primarily for two reasons; first, there is an ammunition depot near the spot where the children sighted the suspicious looking men, second, INS Abhimanyu too is close to the spot.
"A report that some suspicious persons have been sighted early morning of 22 September 2016 in Uran, Maharashtra was received in the morning. As per the report, 5-6 persons were sighted in pathan suits and appeared to be carrying weapins and backpacks. Indian Navy's Western Naval Command, expeditiously reacted to the situation by first initiating an alert and informing all coastal security stakeholders. Searches and other actions as per procedure have been initiated. The situation is being closely monitored in liaison with the Police. No person has been located or apprehended till now" said a statement by Navy PRO.
READ: How Twitterati reacted to Mumbai high alert
Uran is about 50 km from Mumbai, where around 166 people were killed in 2008 when landmarks in the city were attacked by 10 terrorists who came by sea. The attack lasted for three days before the Indian forces eliminated the nine terrorists and caught alive one, named Ajmal Kasab.
It is close to important locations like the Jawaharlal Nehru Port and the Bhabha Atomic Research Centre.
More details awaited