Written by
Divya Goyal
| Ludhiana |
Updated: November 28, 2016 7:31:09 am
AT LEAST four of the six prisoners who escaped from the high security Nabha Jail Sunday morning appear to have had access to social networking sites, updating their photos and status messages from the prison. At 2.15 pm on Saturday, hours before his escape with the others from the jail with the others, dreaded gangster Gurpreet Singh Sekhon alias Mudki updated his Facebook page with a message that may have hinted at what was to come: 'Kaam Aisa Kro K Naam Ho Jaaye, Warna Naam Aisa Karo, Ki Naam Lete hi Kaam Ho Jaaye' (Do something so great that makes you famous instantly, or be so famous that work gets done on its own)-
Watch What Else Is Making News
It got 841 Likes and 81 comments, with most of them asking the gangster to reveal more about his next move. Named as an accused in as many as 13 FIRs, Sekhon is from Mudki village of Ferozepur.
Selfies to birthday celebrations, mood swings and 'get together' with friends, the four absconding gangsters freely operated social networks at Nabha 'High Security' Prison, announcing their mood status — 'feeling bored', 'happy', 'fantastic' — from the barracks that housed them.
They do not even forget to 'check-in' the location at 'Nabha Jail' making it one of the most 'checked-in' place on social networking site.
Three of the absconding 'gang' members-Vicky Gounder, Gurpreet Singh Sekhon and Kulpreet Neeta Deol- posted a group photograph from the jail just three days back (November 23) on Deol's 'fan' page.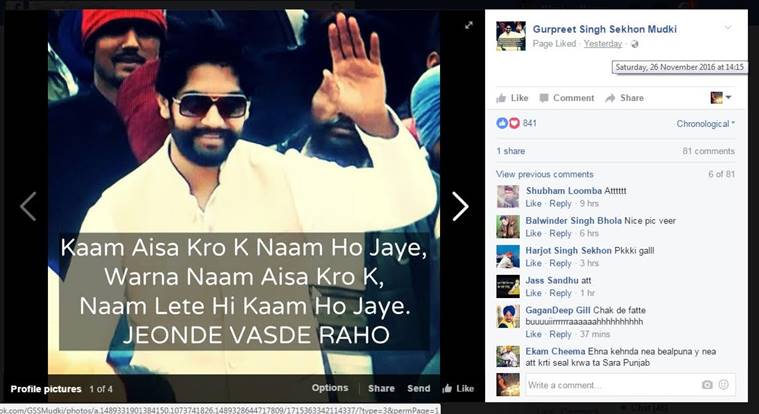 Vicky Gounder alias Harjinder Bhullar, who in May gave open challenge to Bathinda SSP Swapan Sharma on Facebook to arrest him and claimed killing rival Jaswinder Singh alias Rocky- too posted 'birthday wishes' on November 11 for Sandeep Havellian. Wanted in multiple cases of murders and highway robberies, he was arrested in December last.
Gangster Amandeep Dhotian from Tarn Taran, in his FB update on September 30, has posted his photograph from jail with caption: Jinna diyaan nazran ch assi changey nahi, oh apni akkhan daan kar sakde han'. (The people who don't like seeing us can donate their eyes).
The inmates also carry weapons inside Nabha jail easily and one of the updates by 'Sharp Shooter Sukha' dated July 29 with a photo of two revolvers said, 'Gundey Returns- Feeling Lucky at Nabha Jail'.
One of the prime accused in Sukha Kahlwan murder, Kulpreet Neeta Deol from Moga- also posted pictures of 'birthday celebrations' of Gurpreet Sekhon from the jail on November 20 and wrote, 'Dosto ajj meri jaan mere chotte bro Gurpreet Sekhon da birthday hai, karo saare veer nu wish'. (Let's all wish my younger brother on his birthday).
Not only criminals inside the jail but their visiting friends feel equally comfortable posting photos at the entrance gate of 'high security' Nabha jail.
'Feeling sirra (Feeling fantastic) at Central Jail Nabha- after meeting my veer Vicky Gounder and Gurpreet Sekhon. May God bless them,' said status of one Sumit Kachhawa on January 23 with a photo focusing on words 'High Security Jail' at main gate.
For all the latest India News, download Indian Express App