The Delhi Police registered 47 cases related to fake Indian currency notes (FICN), and recovered Rs 3 crore fake notes, between January 1 and August 31 this year.
Parliament Street police station, where banks can submit fake currency notes, said that in most cases, the bank authorities had received fake Rs 500 or Rs 1,000 currency notes. The station received 42 cases till 31 October this year.
Sources said that after receiving a complaint at Parliament Street police station, police send the seized notes to the Currency Note Press (CNP) in Nashik for further examination. Arrests are made only after the CNP confirms the notes are fake.
Sources in the Special Cell told The Indian Express that "major points for pushing fake currency" are Jammu and Kashmir, Punjab, Uttar Pradesh, Bihar and West Bengal.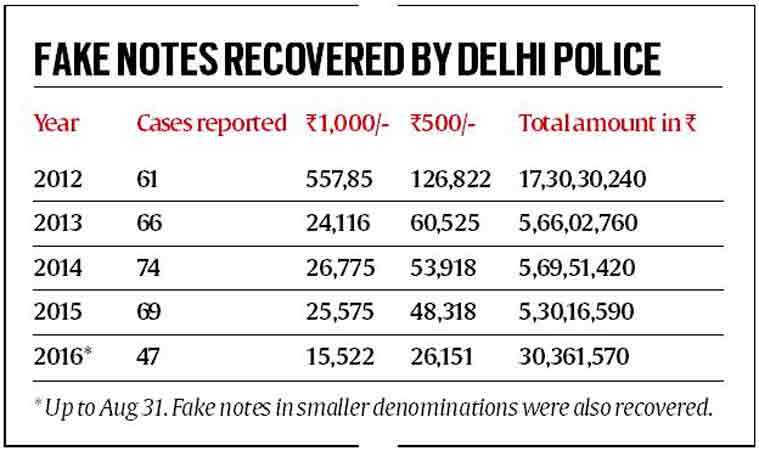 "Investigation in FICN cases has so far revealed that fake notes are routed through these states after they come from Nepal, Bangladesh, Dubai and mostly from Pakistan. The most notorious routes for smuggling fake currency into India are Bangladesh-Kolkata via North 24 Parganas, Nepal-Gorakhpur and Nepal-Bihar routes. In the last two-three years, Jharkhand's Sahibganj district has also emerged as a landing spot for fake notes sent from across the border," police sources said.
In one of the biggest haul of counterfeit currency, the Delhi Police's Special Cell had in 2012 recovered around Rs 2.24 crore fake currency denominations from two vans in southwest Delhi's Dabri area.
Investigation later revealed that they had entered India through the trade route on the LoC in J&K's Poonch sector, and eventually to the capital in a train.
In their chargesheet, police said that the Rs 500 and Rs 1,000 currency notes were of very high quality and also had the "Gandhi watermark" on them.
For all the latest India News, download Indian Express App