Updated: October 21, 2016 6:27:43 pm
Almost every village on the Line of Control has a shelling story — lives lost, limbs maimed, houses wrecked. The Indian Express travels along the LoC in Poonch district and find that despite the fog and fear, there's hope. As one of the villagers said, "We are too close to get hit"
WATCH VIDEO: Jammu Kashmir Chief Minister Mehbooba Mufti Appeals To Police: Here's What She Said
Starting from Chamb in Jammu northwards to the point where it disappears into the snow of the Siachen Glacier, the dotted line on the map is symbolic of the existential hostility between India and Pakistan that has played out for 70 years. On the ground, however, the Line of Control, or LoC, is shorthand for a way of life for the hundreds of thousands of people who live along it.
Since it came into being as the Ceasefire Line in 1947, becoming the LoC in 1972 after the Simla Agreement, people have adjusted their lives around it, despite the constant uncertainty. These days, nowhere is this uncertainty more clear and present than in Poonch, a district of five lakh people in J&K's Jammu region, parts of which are within touching distance of the LoC, and where the sky often rains mortar shells.
Poonch Deputy Commissioner Mohammed Harun says the current situation is worrying. "Earlier, there would be a ceasefire violation and immediately, we would have a meeting between the two commanders on the ground and the matter would be settled, but this time, it is not ending".
Poonch district is predominantly Muslim, with the Hindu population concentrated in the city. In Poonch, the LoC has divided villages and families more than at any other place in the state. Even though many people have lost touch with their extended families on the other side, they remain acutely aware that culturally, PoK and Poonch share more than just the Poonchi language that people speak.
But the predominant sentiment in this district is hope — hope that the shelling will not affect them, that it will all subside, that India and Pakistan can sort it out. And nowhere is this optimism more apparent than in the construction activity all around — double and triple-storeyed houses, shops and offices, all in varying shapes, with or without reinforced concrete.
The wooded slopes of Pir Panjal are home to arguably the most dangerous conflict in the whole world, but they are also embedded with the most colourful houses, from bold candy stripes of pink, yellow, orange and green, to deep reds and blues.
"Hope is everything. The people here have seen a lot. Many are reconciled to their lives now," says Harun.
Basooni
District Poonch, tehsil Mendhar
Distance from the border fence: A couple of metres at its closest, 1 km at its farthest
Distance from LoC: About 5 km
Basooni, a village scattered on the slope of a hill in the Pir Panjal range, will never forget August 15, 2015. Five people in the village were killed that day: the sarpanch, the village school master, an Army porter, and two school boys.
The Army camp is located just above the village. Independence Day is an important day for the Army's outreach with the villagers. It was just after the function at the Army-run Pinewood School that the shells started flying in from the Pakistani side.
Karamat Hussain Khan, the sarpanch, and Abdul Rehman Mir, the teacher, jumped into Karamat's car to bring a friend's family to safety. On the way, though, a shell hit their car, killing the sarpanch on the spot. The teacher, who had managed to crawl out, died later that same day. Just as the sarpanch's son Arfan and some other boys and men from the village ran to the car, another shell fell at the same spot.
The 19-year-old Arfan says that at Pinewood, one of the lessons teachers taught was how to survive a shell explosion: throw yourself on the ground, lie flat — lamba ho jao. "The explosion is upward, and the shrapnel spreads from above 3 ft. If you are on the ground, the shrapnel won't hit you." That lesson, Arfan says, probably saved his life that day. But his friend, 17-year-old Amin, and an Army porter, Sharaz Khan, were killed.
A few houses away, Amin's mother Motia Bi walks away to hide her tears as her husband, Mohammed Aziz Khan, a porter with the Army, recalls how their son was killed. Their other son, 15-year-old Ramiz, was also at the spot where his brother died. He escaped, but with injuries to both his legs. Ramiz now needs a stick to walk.
Then there is 25-year-old Bashir, who also ran up from his house to see what had happened to the sarpanch. The shell hit as he reached the spot. All Bashir could make out was a searing pain in his shoulder. Clutching his shoulder, he ran back home. Despite an operation at Chandigarh's Post-Graduate Institute of Medical Education and Research (PGIMER) in February this year, the arm hangs lifelessly down his shoulder. Now he is waiting to get a disability certificate from PGIMER.
All day, the firing continued. The Indian Army was also responding. That evening, 12-year-old Mooen Ali died when shrapnel from a shell fell near his house and hit him. He was inside the house, plugging a phone into a wall socket when he fell. His father, a policeman, thought he had fallen from an electric shock or the sound of the explosion.
PDP leader Mehbooba Mufti — she was not J&K chief minister then — came to the village and promised a government job, Rs 5 lakh to the families of those who died and Rs 70,000 to the injured, says the late sarpanch's wife, Aksar Jan. "We haven't heard anything about those promises after that," says Aksar.
Muhammed Aziz, the porter whose son was among those killed, says Mehbooba Mufti gave him Rs 1 lakh in cash when she visited, and the Deputy Commissioner gave him a cheque for Rs 1 lakh. Bashir's family says they made repeated rounds of government offices to get the promised Rs 70,000, but have given up now.
Villagers are clear that despite the tragedy last year, they can never think of moving out of Basooni. Many have a family member working in Saudi Arabia, and have built new houses after India and Pakistan declared a ceasefire in 2003.
Arfan, the late sarpanch's son, says his father spent at least Rs 20 lakh on their house, a double-storey structure overlooking mountain ridges across the LoC. His mother Aksar adds, "What can we do if we move out of here? This is where our land is, at least it gives us three meals a day. In the city, we wouldn't know how to make a living."
Some villagers have land, where they grow fruit, maize and rice. Others like Muhammed Aziz work as porters for the Army, earning Rs 200 a day. Villagers say they have good relations with the Army. "We co-operate with them, obey their orders. If they ask us to stay indoors, we don't go out. And they also help us — they gave our government school some furniture and give us medical help," says Aziz.
Slotri/Jhulas
District Poonch, tehsil Poonch Haveli
Distance from the border
fence: 1 km
Distance from LoC: 2 km
"Tetri Not is so close that during Ramzan, our sehri (pre-dawn meal) begins with the azaan in their mosque, and we break the roza at the same time as them," says Naveed Ahmed, a patwari in Slotri, a village 5 km from Poonch town. "We even get to know about deaths in Tetri Not from their mosque announcements."
Tetri Not is a village across the LoC in Pakistan Occupied Kashmir, on the foothills of a ridge across from Slotri and neighbouring Jhulas. In the morning, from the main road, the white painted houses of Tetri Not and the minaret of the village mosque can be seen against its pine-forested slopes. At night, it looks closer, with its bright lights matching those of Slotri and Jhulas. The border fence is also lit up in the evening, the lights turning it into an endless string of diamonds laid out across the hills.
It is not just the physical proximity to Tetri Not, Slotri-Jhulas residents speak of the cultural closeness between the two.
The community that lives in Tetri Not are called Sudans, says Naveed, a patwari. "They are a warrior caste," says Vishwakamal Sharma, also a patwari. "They speak our language, Poonchi. It's a mix of Pahari and Dogri. We are one and the same people. They may call themselves 'Azad Kashmir' but the people are not Kashmiri."
Both Vishwakamal and Naveed point out that a lot of the land in Slotri belongs to the people who went to Tetri Not during waves of migration in 1947, 1965 and 1971. "We don't own all these lands. It is still in the names of those who left and crossed over to PoK. Under the Evacuee Property Act, we are are only looking after it," says Vishwakamal.
The tension on the LoC has brought some uncertainty to Slotri but no panic yet. The district administration has shut down government schools in Poonch district but the shops here are open and there is traffic on the road. The village has seen some shelling in the past, but it was only while watching news on television, says Naveed, that it felt like a war was already on.
"The sarpanch came two nights ago and held a meeting on the road. He asked everyone to switch off their lights and said we may have to move out to a safer place. It's scary, but how can I leave this house and go? I have to harvest the makki (corn)," says Neena Bali, whose husband is in the BSF and posted in West Bengal.
In 2011, a shell exploded in the field behind their house. The marks are still visible at where the splinters strafed the wall. The windows rattled but did not break. A neighbour's cow was killed. "I was alone with my two children, we just hid in one corner of the bedroom. The water tank also sprung a leak from a splinter. We got a new one only three months ago when my husband came back on leave," she says, pointing to a gleaming golden-yellow Sintex on the roof. "Now we watch TV till 11 pm every night to find out if there is going to be a war," she says.
Khari-Karmara
District Poonch, tehsil Poonch Haveli. They are the last two villages on the Poonch-Rawalakot road
Distance from the border fence: 50 metres at its closest
Distance from LoC: 4-5 km
In 2011, 10-year-old Ashiq Hussain had taken the family's buffaloes out to graze near the border fence behind his village Karmara, and then brought them to the river for a wash. After that, he splashed around in the water and then kept his hands on the sandy bank to pull himself out of the water.
All he remembers of what happened next is a huge explosion. Villagers say the pressure from Ashiq's hands set off a mine under the sand. The Army has mined the area beyond the fence and there can be no telling when the stream washes up these devices into the village.
Javed, a driver, who was also bathing in the stream then, had picked up Ashiq's bleeding body and run to the village. From there, Javed and Ashiq's father Mohammed Farooque drove him to the hospital in Poonch. Ashiq lost both his hands and the vision in his left eye. The hospital in Poonch said his left leg would have to be amputated, but his father, a mason, took him to Amandeep hospital in Amritsar, where the doctors saved his leg with skin grafting. The bill: Rs 7 lakh, borrowed from relatives and friends.
Ashiq is now preparing for his Class 10 Board exams. He used to love playing cricket. "Now I watch my friends play." His ambition of joining the Army has to remain unfulfilled.
Despite Ashiq's tragedy, villagers say it is relatively safer here than farther inland. "The big shells will never fall here. We are too close to get hit. It's the cross border firing that is dangerous for us," says Mohammed Aziz, who runs a small shop in Karmara.
The 2003 ceasefire was the first turning point for both Karmara and Khari, followed by the earthquake, says sarpanch Manzoor Ahmed. Three people died in the quake, over 100 people were injured, and the houses in the village — most of them were kachcha structures — crumbled.
"After that, people started making pucca houses here with the compensation that the government gave. The ceasefire also encouraged people to go in for better constructions," says Bagh Hussain, a Khari resident who heads the botany department at Poonch Government College.
Hussain recently pulled down his own house in the village and is in the process of replacing it with a roomy double-storeyed structure. But the pride of his new house is the 12×18 underground room. "Yes, you can call it a bunker. It can fit about 25 people," he says, beaming. But he is confident he will never have to use it. "Nothing will happen here. We have lived in this village all our lives, and this is how it goes on. These tensions come and go," he predicts.
But the real game-changer for Khari-Karmara, after the Poonch-Rawalakot bus in 2006, was the opening up of the cross-LoC trade in 2008 through the adjoining Chakan da Bagh. Up to 140 people are employed from Khari-Karmara as labourers at the crossing point for loading and unloading cargo, earning Rs 8,000-9,000 a month. Traders who live elsewhere have appointed munshis, or agents, many of them from Khari and Karmara. Each makes a hefty commission from every truck that he sends across. Then there are the traders — Khari-Karmara boasts of 26 traders, for whom the cross-LoC trade has been extremely profitable. The sarpanch's father is one of them. "We send bananas to Rawalakot and in return, we get dried fruit and jadi-booti, which we sell in Amritsar, where they make medicines out of it," says sarpanch Manzoor.
Poonch city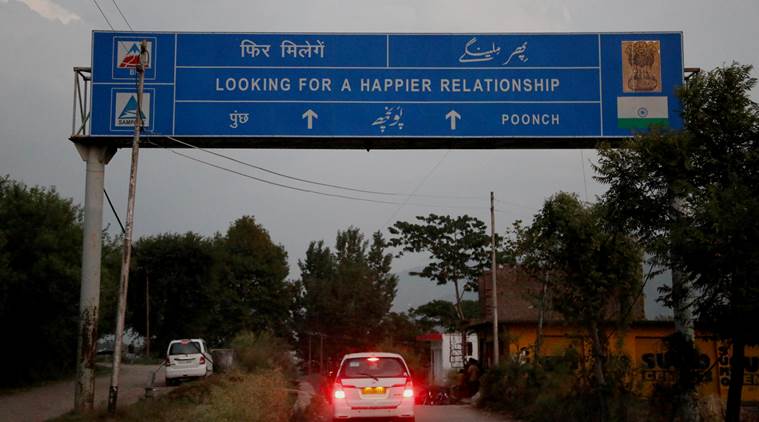 Distance from Chakan da Bagh crossing point: 6 km
At the Poonch court complex, a lawyer relates the extraordinary story of his divided life. His eyes welling up, he speaks of the reception he received from his brother and his family when he went to Pakistan in 1985.
"More than 1,000 people witnessed our reunion. There was not a dry eye in the crowd," says Mahendra Sharma "Pyasa". During Partition, his elder brother had stayed back with his grandparents in Kahuta in PoK, while his parents had crossed over into India with three of their children. Sharma was born after his parents migrated.
"My grandfather believed Partition would be temporary. He was a lakhpati, he was known as 'Lakha' in Kahuta. He allowed himself to be persuaded by the people in the village that he should stay on," says Mahendra. Mahendra's brother Ram Avtar, then 12 years old, stayed back to look after his grandparents and their fields.
The 70-year-old lawyer's first memory of Ram Avatar was at the time of their father's death, when the elder brother had crossed over the Line to be with his mother and siblings. "But he quietly left one day perhaps because he saw we were very poor," says Mahendra. Their mother used to make ends meet by washing dishes and filling water in people's homes and washing their clothes.
After that, they did not hear from Ram Avatar for nearly three decades until they received a letter from him in the early 1980s. That was when Mahendra got himself a visa to Pakistan and set off in 1985 across the Wagah border.
From his letters, Mahendra learnt of his brother's conversion to Islam — he was now Tanvir Iqbal. But that did not come in the way of their reunion. "He received me with such warmth, I did not expect it. He even fed me with his own hands," recalls Mahendra.
Since that event, the two brothers have kept in touch. Seven members of Tanvir's large family — he has 14 children, all of them married with children — want to come next month, says Mahendra.
"I can understand my tears. People in Jammu have much to cry about the division of the state. My family got divided. But I can't understand why people like Geelani and Mirwaiz (Hurriyat leaders Syed Ali Shah Geelani and Mirwaiz Umar Farooq) are crying. It is here in Jammu that we have divided families, not in Kashmir."
Gali Maidan
District Poonch, tehsil Mandi
Distance from the border fence: Less than 500 metres
Distance from LoC: About 1 km
Three days after shells fell in this mountainside village on the afternoon of October 3, gutting a BSF administrative base and 27 shops, the villagers are still shocked. The BSF base, located on a bend in the hill, is now a charred dump. No one was killed or wounded. Those inside the base were pulled out when the shelling began.
Next to the base, shop owners are looking at the charred remains of their properties, scrabbling in the rubble to see if something has escaped destruction. It is a futile exercise. "Everything is finished," says Saifuddin, who owns a kirana shop in Gali Maidan.
Most of the shops were stocked up with groceries and hardware for the coming winter, when the area gets cut off by snow. In one shop, is a half burnt sack of chana dal and some bags of animal feed. All that remains of the shops are burnt pieces of wood, smashed up bits of roof slabs, broken concrete and bricks. The top floors of all the shops — most of them were double-storeyed — have been entirely destroyed.
Visible from the bombed-out market place, on the hill overlooking Gali Maidan, is a Pakistani post. The shopowners are nervous about being in clear sight of the Pakistani sentry. An Indian sentry post is located right below the Pakistani post.
"The first shell fell on the BSF camp around 1 pm. I ran for my life as soon as I heard it. I did not have time to even shut down my shop," says Jehangir, his hands caked with mud after hours of trying to clear the debris in his shop.
"I haven't seen this kind of destruction ever. At least 60-65 shells fell at this spot continuously," says Mushtaq Ahmed, who lost a kirana shop, a hardware store, a Maruti 800 and a bike parked outside.
The rest of the village is hiding indoors since the day of the bombing, afraid even to come out and help shopowners clear the rubble.
Further downhill, in Ghaggrian, a shell fell close to the hospital on the same day but exploded without causing any damage.
"They have closed the schools since that day. When the shells start falling, it's a challenge to keep the children indoors. They want to go outside and count the shells. The ground floor is the safest if you don't have a bunker. We sit in a corner and wait till it gets over. That day, it stopped only at 7.30 pm," says Aashiq Hussain, a shopkeeper in Ghaggrian. "Living in these parts makes you brave," he says.