Several leaders including Prime Minister Narendra Modi, former PM Manmohan Singh, Delhi Chief Minister Arvind Kejriwal, Vice President Hamid Ansari among others reached Rajghat on Sunday morning and paid tribute to Mahatma Gandhi on his 147th birth anniversary.
Leader of opposition in the Parliament Ghulam Nabi Azad, Delhi deputy CM Manish Sisodia and Union Minister Venkaiah Naidu also paid homage to the 'father of the nation'.
All the leaders also reached Vijay Ghat in New Delhi and offered their respects to former Prime Minister Lal Bahadur Shastri.
Meanwhile, President Pranab Mukherjee attended a function at Rashtrapati Bhavan to mark 'Swachh Bharat Abhiyan'. On Saturday evening, he greeted the nation and said: "Gandhiji taught us the value of harmonious co-existence and mutual respect. He displayed a rare constellation of abilities and showed how individuals can advance social and political change. He had an exemplary passion for justice and an indefatigable spirit of service to mankind."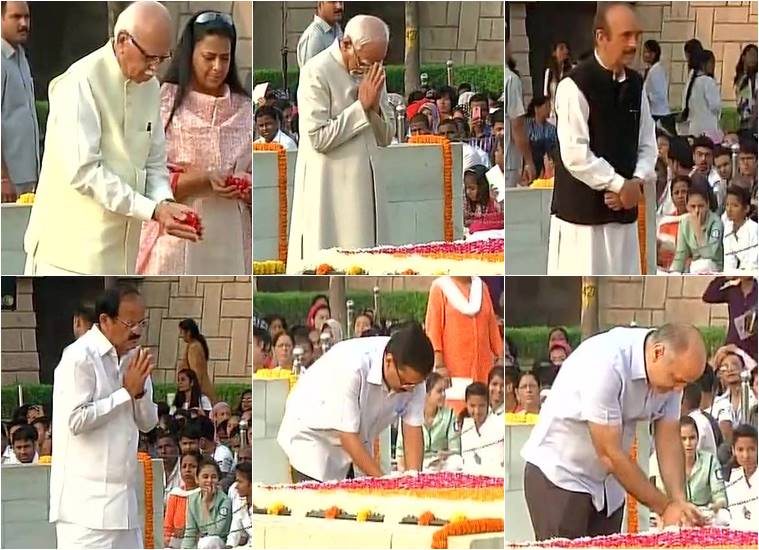 India is also set to ratify the Paris climate deal on Sunday after the President signed it on Saturday. PM Narendra Modi had announced on September 25 that India will ratify the deal on Mahatma Gandhi's birth anniversary.
For all the latest India News, download Indian Express App