In 2009, a young Delhi resident reluctantly agreed to be featured in a documentary on Islamophobia. Pritha Chatterjee, one of the filmmakers, rewinds the tape to another time of paranoia
Six years ago, Umar Khalid was a student of history at Kirori Mal College in Delhi University. I was a final-year mass communication student at Indraprastha College for Women, also in DU. For my thesis, which was in documentary format, I was scouting for "case studies".
We were a team of three trying to build a visual story around Islamophobia, a term, as we frantically explained to our professors, had just made its way to the Oxford English Dictionary's revised edition. This was soon after Azamgarh in UP had been labelled "Atankgarh" and the Batla House encounter in 2008. We spoke to Muslim students who had a tough time getting a house on rent, a family on the streets living near Bangla Sahib gurudwara who said they were forced to keep their Muslim identity a secret, a student from a madrasa who had made it to JNU. We travelled to Azamgarh and interviewed families of students facing terror charges. In all sincerity, we sought to cover as wide a socio-economic and educational bandwidth as possible. As we watched the film recently, in the noisy canteen of our college, it was evident to us that we had fallen prey to all imaginable "reverse stereotypes". It was the reason Umar, who is today one among six JNU students accused of sedition, was in the film: he fit the bill of the English-speaking "normal" DU student we were looking for.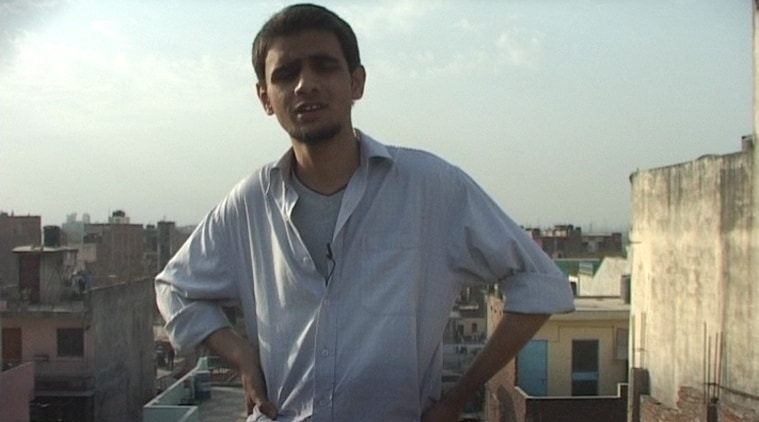 Arrested JNU Student Umar Khalid In A Student Film Made In 2009

Standing on the terrace in his Jamia Nagar home, in a faded blue shirt, Umar says in the film, "People here have been taking out a lot of rallies carrying placards saying, 'We are Indian', 'We are not pro-Pakistan', 'We are secular'. It is very disturbing for me to see my neighbours do so because I have never seen residents of Lajpat Nagar or Defence Colony go to such rallies, saying that we are secular, we are Indian, don't doubt our nationality."
Umar had grown up in the colony. He had told us that he was "just irritated" at the continuous media coverage of the area after the encounter. Last week, his father and sisters told me how the media was camping outside their door, how they had been threatened with rape and acid attacks on social media, and how the continuous scrutiny had made it impossible for Umar's youngest sister, 12 years old, to leave the house to write her final exams in school.
How I had met him is sort of a tangled web; we interviewed about 20-25 people, one leading us to the other. As far as I remember, it was another student of mass communication in Jamia Milia Islamia who knew the family. Since Umar's friends are getting friendly visits from the police, I will not name him. Let us call him A.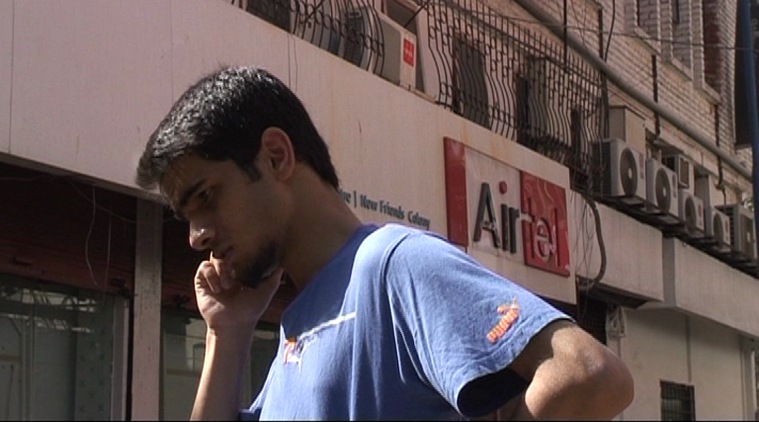 A, now a journalist, took us to Umar's house to meet Dr Syed Qasim Rasool Ilyas. Umar's father was a member of the Muslim Personal Law Board — he still is — who had chosen to quit SIMI.
I wanted to meet him to understand his reasons. We spoke for hours in their house, before Umar walked in and joined the discussion. Five minutes later, I knew it, this was the guy. He fit the idea of the student we had in our mind. Umar, the Banyan Tree school pass-out, who hung around in kurtas and faded jeans, raised his eyebrows when I first suggested he speak as a Muslim. "Why me?" He was uncomfortable about how his neighbourhood and his Muslim identity were being profiled. But he refused to use "a strong word" like Islamophobia. "Let's just talk about the issues and not dramatise," he said. "I am hardly victimised. I am hardly a Muslim. You should speak to students from Jamia, many of them are having real problems in the hostel," Umar said.
But we were firm. For a couple of days, we shot him in his college, with his friends, and on the drive back to his home in Jamia Nagar. He seemed a "normal" guy, he could be one of us, and we wanted such a "case". In our "reverse stereotyping", at a subliminal level (none of us ever said this out loud), we probably wanted to show: "Look 'normal' people live in Jamia Nagar."
In the film, he mostly spoke about the bad press his neighbourhood was getting and never of himself as a Muslim, despite all our convincing. The only part in the edited film where he talks about people reacting to his Muslim identity is when, sitting on the steps of his college in DU, he complains about the reaction of a few girls. "So many girls tell me that their parents tell them not to speak to Muslim boys because they are afraid they will run away with them. What century are we living in?" Umar asks, laughing.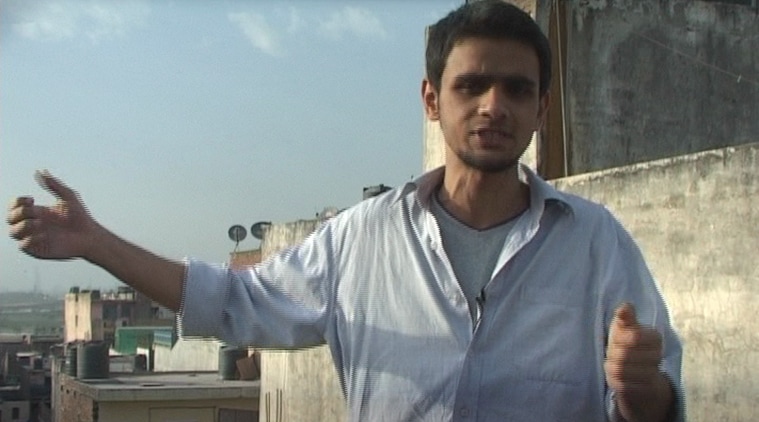 He was so spontaneous, we shot everything. Umar, standing on the terrace, his arms resting on the parapet, described Jamia Nagar as "the poshest ghetto in New Delhi". The introduction in the film we finally settled on was, "My name is Umar Khalid and I am a Delhi University student… "
In the film, Umar speaks about the association of Jamia Nagar with Batla House after the encounter, "which has a lot of unanswered questions." He complains about the police presence in the area, about pizza outlets not delivering to Jamia Nagar. He talks about mobile phone companies refusing internet connections to residents of the area and banks refusing home loans.
We were so aghast we made him order a pizza and an internet connection, standing right outside the New Friends Colony outlets. I was impressed by how much at ease he looked, how he rebuked the people at the other end. "Out of delivery area? But Jamia Nagar is right here. You used to deliver earlier. This is ridiculous," he said.
My professor, who was supervising us, thought someone ranting about the lack of pizza delivery in Jamia Nagar would seem frivolous compared to the "powerful" stuff we had from Azamgarh or the burkha-clad madrasa student who made it to JNU's School of International Relations. This was a young boy cribbing about everyday things that had been suddenly snatched away from his life, because he was a Muslim in Jamia Nagar. But when he saw the raw footage, he agreed we should keep him in the film. Umar, as we have seen in his recent speeches, can be articulate and persuasive.
We called the film, without much sense of irony, "The Other". I hate to say this but we never showed Umar or any of our other "case studies" the final film. When the JNU story broke last week, I contacted Umar's father and sisters again.
I don't know if they remembered me or the film, though I did remind them. But they were probably too disturbed to care. They spoke to me about Umar, about his atheism and communism, and the anger they felt at him being reduced to his Muslim identity in the media. "He has a Muslim name so he must have gone to Pakistan and been associated with Jaish-e-Muhammad? Ask anyone how much of a believer he was: He argued about praying, fasting, everything that practising Muslims believe in," Dr Ilyas said.
Umar and I had become friends on Facebook. But I never met or spoke to him after that. I don't think Umar then was the communist his family told me he had become when I spoke to them last week. But I had met him a few times, so it's silly to expect he would profess everything about his life to me. He was a simple, funny boy who had relented to our endless coaxing.
When I first messaged my editor about Umar having been part of my college film, he said it was "eerily relevant" today. When I returned to my college studio to get a copy of the film, I realised just how right he was. The studio assistant who dug out the film from the college records, and made us a DVD from the tape version, smiled at us. "Yeh Khalid Mohammad ke liye maang rahe ho na? Kisi TV channel se ho kya aap?" was the first thing he asked. The 23-minute film had at least six case studies, and Umar was the penultimate, on screen for six-seven minutes. But clearly, the studio assistant had watched the film, and identified Umar.
In 2009, our team of three stalked Umar till he agreed to be a part of the film, because he seemed so normal, just one of us, and yet somehow we inadvertently slotted him as "The Other". When we watched the film last week, we flinched at how silly we had been, how we had created stereotypes and the excessive amount of text and vox pop we had used, instead of a sound voiceover. But after watching Umar's part, in all the hue and cry surrounding him today, I am terrified that our film might have foretold his fate.
For all the latest India News, download Indian Express App