Written by Krishn Kaushik | New Delhi |
Published:September 16, 2016 1:47 am
Union Minister M Venkaiah Naidu Thursday urged journalists to remember their "duty towards the country" while reporting and not "eulogise terrorists like Burhan Wani, Afzal Guru, Maqbool Bhat and Yakub Memon".
While speaking at the convocation ceremony of the Indian Institute of Mass Communication, Naidu, the Union Minister of Information and Broadcasting, said, "… You are a journalist but you are a citizen of India. You have a duty towards the country. You must remember that you are a citizen of this country."
He added, "… Irrespective of caste, creed, sex, religion and region, India is one. We are one country, we are one nation, we are one people. We have to stand by the country, that is our duty".
Naidu told the 341 students — who graduated with diplomas in journalism, public relations and advertising — that some people in the country were "eulogising terrorists, terrorist-sympathisers and dacoits".
"Some people are trying to eulogise Afzal Guru, Yakub Memon, Maqbool Bhat or Burhan Wani," he said, adding, "It may be music to the ears of our neighbour, who is trying to aid, abet, fund and train terrorists."
The minister further clarified, "Pakistan is aiding abetting, funding and training terrorists."
At the ceremony, attended by students from IIMC campuses across India, Naidu asked the graduating journalists to refrain from sensationalism.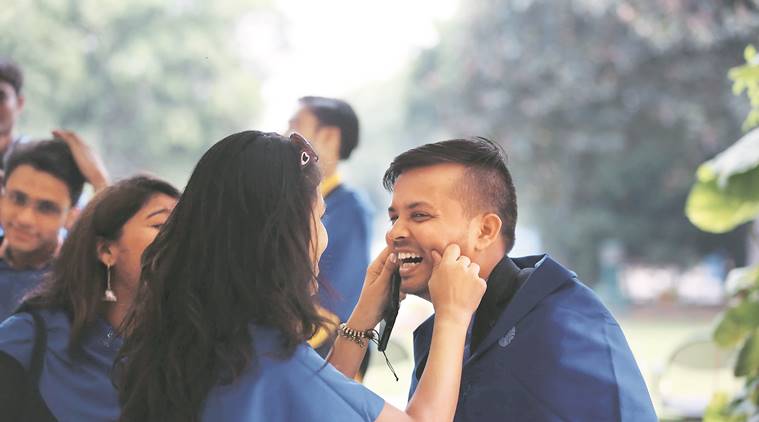 "My advice to the media is, be nearer to the truth, keep away from sensationalism. But unfortunately, sensationalism has become the order of the day," he said.
The minister claimed news channels didn't report about agricultural issues, but "always report on something sensational".
The minister also urged the graduates to speak in their mother tongue, as English media only had a small readership and viewership across the country.
Naidu recalled that in his youth, he had participated in anti-Hindi protests in Tamil Nadu. But after he came to Delhi as a politician, he realised, "Hindi ke bina Hindustan mein aage badhna sambhav nahi hain" (You cannot progress in India without Hindi).
The minister also said that journalists should have a "mission", not a "commission". "What is happening in recent days… you are seeing, you are hearing stories of paid news, sponsored news." He urged journalists to stay away from such practices.
Naidu also told the students that they shouldn't let their personal views affect the news. Journalists should "reach the unreached" and "hear the unheard", he said.
The ceremony was attended by IIMC Director General KG Suresh, Prasar Bharati Chairman A Surya Prakash, and senior bureaucrats from the Information and Broadcasting Ministry.