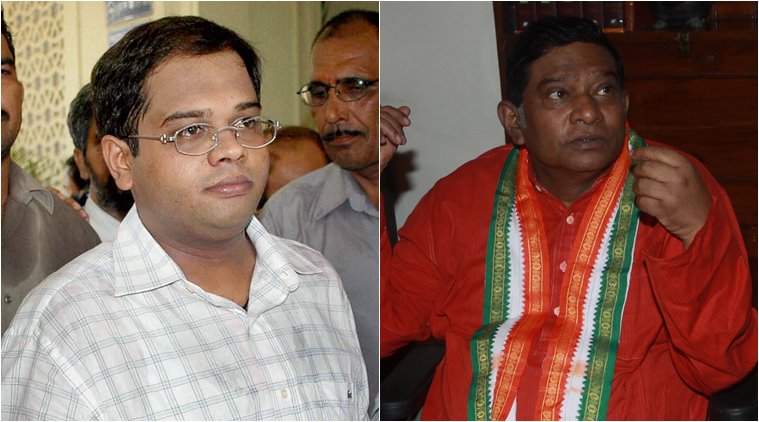 The controversy over the Antagarh bypolls and purported taped conversations between key players has taken a fresh turn as Firoz Siddiqui, former loyalist of ex-Chhattisgarh chief minister Ajit Jogi, has sent a mail to Chief Secretary Vivek Dhand in which he has modified his stand.
READ | 2 confirm their voices, CM Raman Singh denies, Jogi's son says 'tapes doctored'
On Saturday, Siddiqui sent the email to Dhand saying: "Audio CD of Antagarh bypolls is being published and broadcast by newspapers and news channels, in which my name is also allegedly being dragged. However, the reality is that while it is being said that I have verified the voices of Ajit Jogi, Amit Jogi, Punit Gupta, Manturam Pawar and Ameen Memon, I never verified these names anywhere."
READ | Chhattisgarh Tapes: Poll panel sends Express report to state, wants reply by Jan 7
Siddiqui had admitted before The Indian Express and several news channels that the purported phone conversations, which had several key players discussing the Antagarh elections, had his voice and he acted as a middleman between the Jogi camp and Congress candidate Manturam Pawar, who withdrew a day before the last date of withdrawal. However, in the email, Siddiqui wrote: "I cannot say with authenticity that the voice in these purported tapes is mine." 
WATCH VIDEO: The Chhattisgarh Tapes : Did Congress & BJP 'Fix' bypoll?
Siddiqui wrote the mail in response to Dhand's questions. Dhand is holding an inquiry following a directive by the Election Commission, which had asked the state to probe the matter and submit a report.
PCC chief Bhupesh Baghel said Siddiqui's email reflected a conspiracy by the government and an attempt to muffle the scandal.
Speaking to The Indian Express, Siddiqui said that his statement to the government must not be taken as U-turn. "An audio is played to me, and I say that the voice is mine. But when a question is asked (to me), that what proof I have that this is my voice, then I will only say that I do not have any proof. Therefore, its voice sample (test) must be done," he said.
He added that the chief secretary had asked him whether he had made the audio tape. When he denied it, the CS asked him how he could verify his voice. "I then said that let's go for a voice test," he said.
Siddiqui admitted that prima facie the voice was his, but since it was a technical issue and a matter of probe, a voice test should be done to remove all doubts. He, however, did not deny having conversations with Jogis and others about the Antagarh bypolls.
Following the publication of The Indian Express report about the phone tapes, Siddiqui also wrote a letter to police saying he was being threatened. He refuted the charge of the Jogis that he was blackmailing them with the tapes. "Amit Jogi is lying that I am blackmailing him. He is levelling false charges on me because I am the last and the only evidence on this matter (Antagarh bypoll scandal)," he had said on camera.
Terming it an attempt to threaten the whistleblower, Baghel said: "This is a very serious issue. How was this confidential mail to the CS leaked? Did the CS also probe Ajit Jogi, Amit Jogi, Puneet Gupta, Manturam Pawar or was it an attempt to merely threaten whistleblower Siddiqui? The government is trying to muffle the scandal… This shows the chief secretary is under the influence of CM Raman Singh."
For all the latest India News, download Indian Express App