THE Centre on Tuesday rushed an additional 700 Rapid Action Force (RAF) personnel to Karnataka to prevent further violence over the Cauvery water-sharing dispute, which has claimed two lives so far, while Prime Minister Narendra Modi issued an appeal for peace, saying that he was "personally pained" by the situation.
With the additional deployment, a total of 1,700 paramilitary personnel have been sent to assist police in violence-hit areas of Karnataka. On Monday, the Centre had rushed ten companies, comprising 1,000 RAF personnel, to the state. The fresh deployment came after Union Home Minister Rajnath Singh on Monday spoke to the chief ministers of Karnataka and Tamil Nadu and assured Central assistance to ensure security.
In his message, Prime Minister Modi described the situation in the two states over the last two days as "distressful".
"The situation that has emerged in Karnataka and Tamil Nadu, as a fallout of the issue of distribution of the waters of the Cauvery River, is distressful. I am personally pained at the developments. Violence cannot provide a solution to any problem. In a democracy, solutions are found through restraint and mutual dialogue," said Modi.
"This dispute can only be solved within the legal ambit. Breaking the law is not a viable alternative. The violence and arson seen in the last two days is only causing loss to the poor, and to our nation's property," said the Prime Minister.
Reaching out to both states, Modi said that whenever the country has faced adverse circumstances, the people of Karnataka and Tamil Nadu, like others across the country, have always handled the situation with sensitivity.
"I appeal to the people of the two states, to display sensitivity, and also keep in mind their civic responsibilities. I trust you will keep national interest and nation building above all else, and give priority to restraint, harmony, and finding a solution, eschewing violence, destruction and arson," Modi said.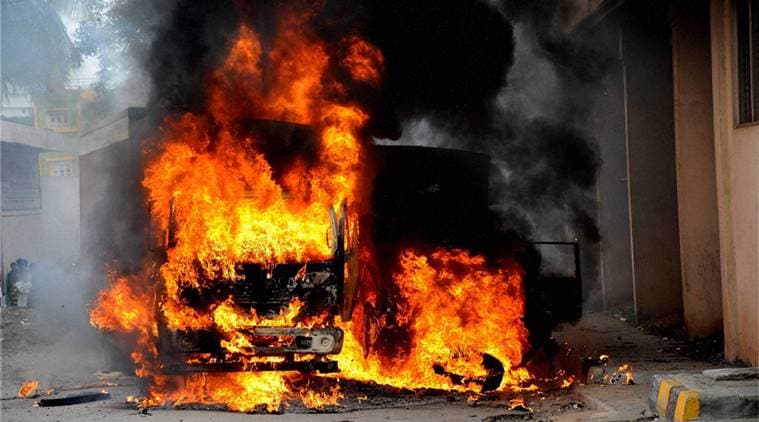 Union Information and Broadcasting Minister M Venkaiah Naidu, who has represented Karnataka three times in the Rajya Sabha, said that violence and counter-violence would only complicate matters and asked both state governments to put in place effective security measures.
He also asked the media to exercise "restraint" while reporting on the violence in both states.
"A large number of people from both the states live in Karnataka and Tamil Nadu and have been making significant contribution to the development of the state of their choice of living. They should not be made to feel insecure as it is the Constitutional right of every citizen to live in his/her place of choice in the country," said Naidu.