Updated: January 10, 2016 12:14:54 pm
They were cousins and friends. Three young men who were boys really — had flunked their exams, been grounded, shared a passion for bikes and mobile phones and all good things, hung out a lot with each other and other boys their age. One morning, writes Sreenivas Janyala, they decided they were ready for war. Illustrations by C R Sasikumar
On Friday, December 25, 2015, between 4 and 5 am, the three left their homes. They closed the doors behind them softly, making sure they didn't wake up anyone. The morning azaan was minutes away — if anyone asked, they would say they were headed for the mosque.
They left on two motorcycles and drove straight to Adilabad in north Telangana, a little over 300 km from Hyderabad. Once they reached the town, they parked their bikes outside a shop and hired a taxi to Nagpur, 200 km down NH-7. They reached Nagpur around 4 pm that day and spent the next hour shopping for T-shirts and shoes on Sitabuldi Fashion Street. Later, they watched two movies back to back — Star Wars and Dilwale. It was late night by the time they reached Nagpur airport. The three spent the next few hours waiting outside the airport and then, booked tickets for an early morning Indigo flight to Srinagar.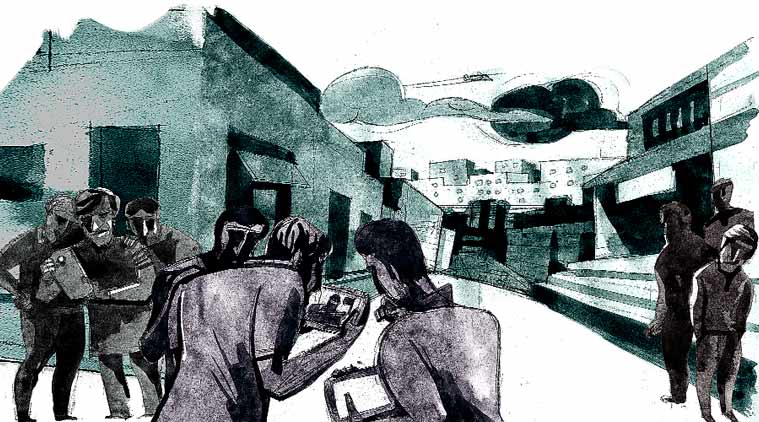 Hours later, a joint team of the Telangana and Maharashtra police, acting on a missing complaint lodged by their parents, detained Maaz Hassan Farooq and Syed Omer Farooq Hussaini, both 22-year-olds, and their youngest cousin, Mohammed Abdullah Basith, 20, at the Nagpur airport, just as they were about to board the flight to Srinagar.
The three told the police that they planned to go to "Afghanistan, Iraq, Syria and Palestine via Kashmir" to "join the Islamic State (IS)". Maaz, Omer and Basith were brought to Hyderabad, where a court remanded them in 14-day judicial custody.
Back in the two neighbourhoods in Hyderabad, a nightmare had ended. Or just begun. "I woke up at 1 am to drink water and checked on the two children,'' says Omer's father Syed Azizullah Hussaini. "Omer was sleeping in his room then. Then I woke up at 5 am and went to his room to wake him up for namaaz. He was not there. I went out and looked — his motorcycle was parked there. Omer's mobile was switched off. I came back inside and called some of his friends, thinking he must have gone to the mosque, but he was not with them. That moment, I had this dreadful feeling. Then I started calling up relatives. The second call was to Basith's father. He said Basith too was not at home and then we got to know about Maaz. Ours is a tenement house and the gate creaks, which is probably why Omer did not take his bike. By 6 am, we knew all three had left home,'' says Hussaini.
"They must have decided on a time because Basith went on his motorcycle to pick up Omer from the neighbouring society. We realised Basith was missing when we received a call from Omer's father. At first, we too thought he must have gone to the mosque to pray. We live in an apartment and we didn't realise when he went down and took out his motorcycle. We found his mobile on his study table, along with a note that said he was going to the 'Land of Muslims','' says a family member of Basith who didn't want to be named.
That morning, soon after, the phone had rung in Maaz's house. His father Aijaz Mohiuddin Wasim stepped out to check – no bike, no Maaz either. They had done it before, at least Maaz and Basith had. Then, in September 2014, when Maaz and Basith left home the first time to join 'jihad', they had no clue how they would join up. All they knew was that if they reached Dhaka and asked around, someone would help them. There were two other friends in the group and they planned to reach Afghanistan, and from there, go to any place where a jihad was on — Palestine, Syria, or Iraq, in that order. Then too, it was their parents who had lodged a police complaint, after which intelligence officers of the Telangana Police had traced them to Malda in West Bengal, from where they were brought back, counseled and let off.
But they decided they would do it again, give their plan one other shot. This time, Omer was in too. Maaz had a "brilliant" plan – they would somehow get to Srinagar. "He thought that once they got to Srinagar, it would be easy to contact any militant organisation which would help them cross over to PoK. He thought that if they offered to join jihad and IS, the separatist leaders would welcome and honour them and arrangements would be made to ensure that they reached either Afghanistan or Syria,'' says an official of the Special Investigation Team of the Telangana Police's Detective Department.
Officers are still trying to figure out if it was Maaz who influenced his younger cousin Basith or if it was the other way round.
*****
Gulshan Iqbal and Naseebnagar, two middle-class localities adjacent to each other in the Chandrayangutta Police Station limits. It's here that Basith and Omer grew up. Maaz grew up in the more upscale neighbourhood of Humayunnagar that's about 10 km away.
"Chandrayangutta is a quiet neighborhood with hardworking people," says Assistant Commissioner of Police Mohammed Abdul Bari. "There are many families who have settled here after working for a few years in the Gulf. Then, there are those who have, over the years, migrated to Hyderabad from neighbouring districts and made these two neighbourhoods their home. Most parents here want to ensure good education for their children; many study in engineering and science colleges. The youngsters here aim to complete their college and aspire to get decent jobs or go abroad to work.''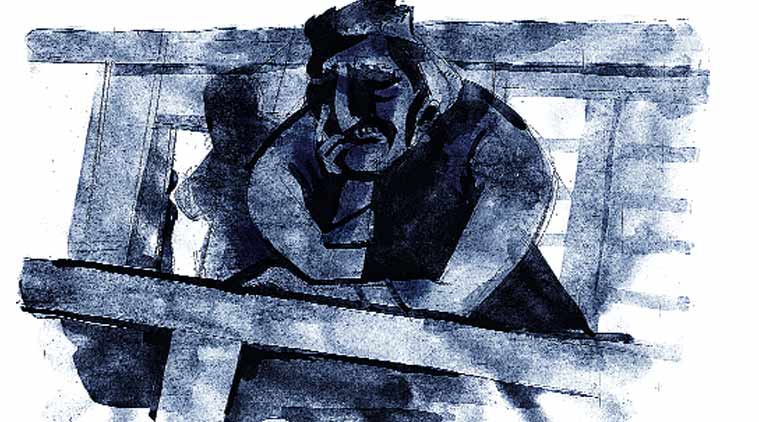 But somewhere in the midst of all those people with "aims" and "aspirations" were those who had fallen behind. The neighbourhood, part of the turf of firebrand MIM leader Akbaruddin Owaisi, has its share of problems – of college dropouts, unemployment. Youngsters often hang out at tea stalls in Chandrayangutta, crowding around mobile phones and laptops to watch videos on a loop. Basith and Omer told their investigators that they often hung out here, watching videos, discussing Afghanistan, Iraq and Syria.
The neighbourhood is also known for its bikers who zip through the city at night, often racing dangerously on Outer Ring Road. Maaz, Maazi to friends, had his bike too, a Yamaha Fazer which he spent hours riding. But he had another love – his mobile phone. He spent hours playing video games – his favourite was Assassin's Creed, besides games of medieval warriors taking revenge and dispensing justice – on his phone and his laptop. It wasn't all play, though. Somewhere along, he also watched videos, dozens of them, mostly jihadi and IS propaganda.
Basith and Omer watched them too. They spent hours this way, heads buried into mobiles phones, ignoring the warnings and yellings they got from their parents. Some of these videos were of speeches of their uncle and hero, former SIMI president Syed Salahuddin who died in a road accident in 2014.
After the police brought Maaz and Basith back from Kolkata in September 2014, their parents had taken away their cellphones. The boys were grounded for a while – not allowed out much and when they were, only under supervision. Gradually, the boys had their way – first, they got their mobile phones back, basic ones without internet, and then, they got the data plan they wanted.
The three had been falling behind in college too. Maaz, a student of BTech (Instrumentation) at Mufaqqam Jah College of Engineering and Technology in Banjara Hills, had started failing in many of his subjects after his first semester.
Omer studied BSc (Microbiology) at Avanthi College, Barkatpura. But last June, the third-year student failed two of his Chemistry papers and had appeared for the supplementary exams in October. Two days before he left home with his cousins on December 25, the supplementary exam results had been declared. He had failed again, but had kept quiet about it.
Basith, the youngest of the three cousins, had joined Deccan College of Engineering and Technology in 2012 and had taken up Computer Science and Engineering. "After his first year, we didn't see him much in college. He had gathered some backlogs and was not interested in studies. After we got to know about his misadventure in September 2014 (the trip to Kolkata), he was rusticated from college,'' says a teacher who didn't want to be named.
That incident cost them their friends. "Maaz was very religious. He was also very hot tempered. Whenever we used to meet, which was rare, after a few minutes, he would start off, "yeh video dekha, woh video dekha (saw this video, saw that)''. He was not seen much after he was detained the first time. His parents didn't let him out of home much,'' says a young man who calls himself an "acquiantance" of Maaz.
Basith's childhood friends in Nassebnagar too had already distanced themselves from him after he was detained the first time. "Two or three days after the police brought Basith and Maaz back from Kolkata, the word spread. Our parents warned us to stay away from the two. Though after the incident, Basith's parents didn't allow him to go out of the house freely enough, he was very active on Facebook and used to post a lot of material on Palestine and Syria. I knew him in intermediate (class XI and XII) and he was a little different from others, very fast-paced and restless. I had no clue then that he would end up like this. When Basith went missing again this time, everyone knew he must have been up to something,'' says a friend who doesn't want to be named.
Besides uncle Salahuddin, the boys had other role models, among them Yemeni preacher Anwar al-Awlaki and, of course, each other. "When Basith was 16 or 17, his uncle Salahuddin was his biggest hero. Later, he took to watching Awlaki's speeches. He told us all this when we were counseling him in September 2014. At that time, he appeared to repent his actions, saying he got emotional and motivated for jihad after watching those videos,'' says an SP rank officer, who, in September 2014, got together the parents of Basith and Maaz, besides community elders, to counsel the two.
But Basith was soon back to his old ways. "He again started watching online speeches, propaganda and war clips from Afghanistan and IS. He also pitched his radical ideas and thoughts to others in his friend circle and on Facebook. Most of them ignored him, a few simply clicked on the 'like' button but mostly refrained from commenting or entering into a discussion with him online,'' says the SP who counseled him in 2014.
Maaz told his investigators that he was particularly taken in by IS leader Abu Bakr Al Baghdadi and wanted to travel to Syria to join IS and live in the "Land of Muslims". "When IS announced its caliphate, Maaz was convinced it was where all true Muslims should head for and live under Islamic laws," says an official involved in the investigation.
Interrogators say that Maaz tried to meet Kashimiri separatist leader Asiya Andrabi at the funeral of Salahuddin in September 2014 but couldn't since she was confined to the women's section.
Maaz was briefly a member of the Students Islamic Organisation (SIO) at the Islamic Centre in Chatta Bazar area of Hyderabad, but often disagreed vehemently with their ideas which he thought were "too peaceful". "Maaz was a member in 2012-13 but his ideas and behaviour made our other members uncomfortable. His ideology was extreme and his views were very radical. Once the senior members found out about his extremist views, we expelled him. Basith also used to come to the Islamic Centre. We cancelled both their memberships,'' says Abdul Malik Shariq, Telangana unit president of SIO.
*****

At his home on the second floor of an apartment block in Azizia Masjid Street of Humayunnagar locality, Maaz's father Aijaz Mohiuddin Wasim is a broken man. "It was a shock to the family when he went the second time. How could he not think of us? When I met him after he was brought back from Nagpur, he could not even look me in the eye. I thought he would manage to complete his BTech and do something useful. Instead, he is now in police custody and will probably end up in jail,'' says Wasim, who works as a manager in a private firm.
The three families have felt their relationships straining. Theirs was a close-knit family — Maaz's mother, Basith's mother and Omer's father are siblings — and the three boys would "always be in a huddle, discussing god knows what". But now, the three families find themselves blaming each other's sons for their troubles.
Basith's family lived in Medina in Saudi Arabia, where his father Mohammad Abdul Arif worked in a construction firm from 2000 to 2007. They moved back to Hyderabad in 2007 and Basith joined class VII at St. Maaz High School in Saidabad.
At his home in Naseebnagar, Basith's father Arif says he tried his best to prevent his son from straying, especially after police tipped him off as early as July 2014. "Basith wasn't allowed to meet his friends or relatives for at least six months after he was brought back from Kolkata. We then enrolled him for an interior designing course at an institute in Himayatnagar. But then he started coming home late and we pulled him out in July (2015). He has been home ever since. He would spend all his time on the phone and Internet… just spoiled his life. Obviously, there was a lot of tension about all this at home," says Arif, who runs a furniture business.
Arif had more reasons to worry. In 2014, Basith had convinced his sister to join the IS and told her that she could marry an IS fighter.
Less than 500 metres from Basith's home in Naseebnagar is Omer's. Here, Omer's father Syed Azizullah Hussaini is convinced that his "quiet and introvert" son was influenced by his cousins Basith and Maaz. "Omer couldn't have done this on his own. I think it was Basith who brainwashed my son. He is the chief planner. After Basith and Maaz were detained in 2014, we tried to keep him away from those two. We belong to the same family so it was not possible to separate them entirely as they often met at family functions. I didn't realise that the three were a group and had started planning something like this. If it wasn't for Basith and Maaz, who have been booked by the police because they were caught the second time, my son would have been counseled and let off. Now the police have booked him too,'' he says.
But the police who have scrutinised his online activity don't believe Omer could have been that naive. They say he had been radicalised much earlier, at least by 2012, and that he only didn't join his cousins when they made the trip to Kolkata in 2014. They say that by July 2014, he had started posting news articles and re-posting tweets defending the IS, praising IS for the "good treatment" of Indian nurses and Turkish drivers.
Hussaini, though, is certain that his son hadn't left home to wage any jihad; he was just embarrassed about facing them after having failed his exams. "Two days before he left home, his BSc supplementary exam results had been declared and he had failed again. He did not inform us about it. Obviously, he knew I would be upset if I found out about his results. I think he just wanted to run away from home and it ended up like this,'' says Hussaini.