Written by
Sakshi Dayal
| Gurgaon |
Updated: September 14, 2016 10:21 am
HE WAS the son of a farmer who worked as a bus conductor. She was born to a family that owned two houses and several acres, and her grandfather was once one of the richest men in the area. They grew up just 500 metres apart in Alipur village in Gurgaon, putting them out of reach of each other in this region bound strictly by rules of gotra.
But love happened 15 years ago, when she was 17 and he 24. Now Ashok Rathi, one of Haryana's most notorious gangsters, in jail since 2014 serving life term for two murders, is accused of killing wife Sushma on September 2 after she had just sent their daughter to school — in the process wiping out almost her entire family.
The village where their love story unfolded and came to a gory end has lapsed into silence, scared of inviting the wrath of Rathi. One of the residents, who agreed to speak, looked around apprehensively. "Ashok has his men everywhere," he said.
If at all the others talk, it is to speak of a boy who was once "decent", and of a girl who should have known better.
***
Ashok Rathi was just two when his father, Mahabir, died of a heart attack. The family never had enough money and Mahabir worked as a bus conductor to support the family, including wife Sammat and younger son Nishu.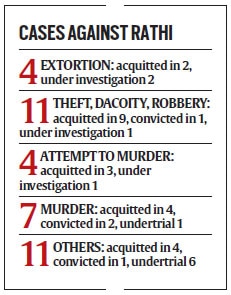 Ashok grew up in an extended joint family, including Mahabir's four brothers and their families, who shared two houses, located side by side. The small, Jat-dominated Alipur village is situated 2.5 km from Bhondsi police station, and has a population of around 4,000, most of them engaged in agriculture. Ashok did his schooling at the government school for boys, and later went to a college in Sohna, 8 km away.
"After his father's death, I brought up the boys on my own, with some help from their uncles," says Sammat, sitting on her haunches in a room, bare except for two single beds, where the family entertains guests.
On a wall are two photographs — one of Mahabir, tilted with a layer of dust on it, and another of Ashok's daughter Bhumi, standing between her cousins, all of them unsmiling.
"Ashok was a good boy growing up, and a very good son. He never did anything wrong," Sammat adds.
Neighbours also remember Ashok as a sincere student, with a passion for sports and bodybuilding. Some call him an "exceptional" kabaddi and cricket player.
The elders of the village, none of whom wants to be identified, call Ashok a "dutiful" boy, who had "no bad habits" and "never drank or smoked", and who did odd jobs to help out his mother.
Things changed once he began college. A 45-year-old resident says Ashok started keeping "bad company" and got involved with local gangs. "Eventually, he dropped out of college and became a full-time criminal."
In 1999, when he was 22, Ashok's name first entered police records. Three FIRs were filed against him that year, two for robberies, and one for dacoity. He was named for stealing cash and cars at knife point and gunpoint.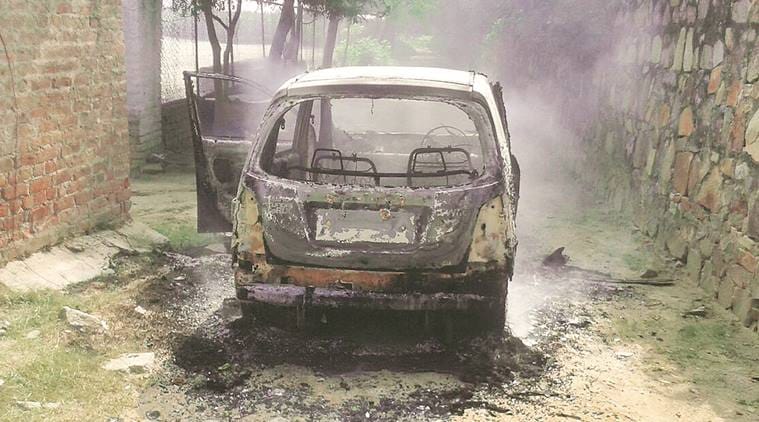 By the end of 2001, Ashok was a known criminal in Sohna and Gurgaon. Among other charges, he was accused of killing a youth during a robbery at a printing press in Gurgaon.
***
Villagers are not sure what drew Sushma, from one of the most respected families in Alipur, to Ashok. Like him, she had lost her father early. She was nine when he died of cancer, leaving her mother to raise three children alone. The second of the three siblings, Sushma studied in Alipur's Government School for girls until Class VII, and then moved to a private school. However, she left studies mid-way in Class XI, around the time she met Ashok.

The budding relationship remained a secret till 2001, when Sushma ran away from home. Villagers say she was found with Ashok a few days later. While Ashok, wanted in several cases, was sent away to prison, Sushma was brought home by her family and married off to another man.
Says a resident, "Sushma came back from her husband's home within a month, and in 2007, eloped and married Ashok. People were against their relationship as here you don't marry someone from the same village, but after they came back married, there was nothing anyone could do."
Villagers say in the first three years of their marriage, Sushma and Ashok appeared to be happy though he was mostly in prison and only came home to visit. They lived in a house owned by Sushma's family. Around a year after their marriage, Sushma gave birth to Bhumi.
Sushma's family also appeared to have accepted Ashok, and villagers say he was on good terms with both her mother Anguri Devi and brother Dharmender. It came as a shock, thus, to Alipur when Ashok was accused of killing Anguri and Dharmender.
Read | Gangster Ashok Rathi confesses to murdering wife, claim police
According to the FIR at the Sadar police station in Palwal, Dharmender, 20, was found shot in a field in Palwal on August 9, 2011, a day after he went there "for some work" with Ashok and Anguri. The mother's body was never found.
An officer posted at the police station at the time, speaking on condition of anonymity, says Ashok killed Dharmender and Anguri for Sushma's share in the property.
Ashok was convicted in 2014, and has been serving life imprisonment at Bhondsi jail since. The murders "opened Sushma's eyes", say residents of Alipur. While she continued to be with Ashok "because she was afraid", she reportedly broke all contact with him.
Sources say Sushma began to lead an "independent" life, managing her home, daughter and land by herself. Her extended family had already distanced themselves after she ran away with Ashok in 2001, while her sister Nitu, now married, lived in another village.
In November 2015, Sushma filed an FIR at the Bhondsi police station alleging Ashok had called her from prison and threatened to kill her.
"My life is in danger," she said. She also claimed that she had been separated from Ashok "for the last 8 months". A case had been registered against Ashok for criminal intimidation. More recently, sources say, word had reached Ashok "through people on the outside" that Sushma might be involved with another man. No one in Alipur knows of such an affair.
***
On September 2, Sushma was walking back to her scooter after putting Bhumi on her school bus, when she was shot dead. Bhumi is now living under police protection with Nitu, in the house her parents once shared.
Ashok is said to have confessed to getting Sushma killed, over her alleged affair. "He named two members of his gang for the murder. We are trying to trace them," says SHO Kumar.
While they regret the end she came to, Alipur villagers have little sympathy for Sushma. "When she married him, she knew what he was capable of. She has no one to blame but herself," says a resident.
Some, however, pity Sushma, for having been "used". "Sushma came from ancestral money, and Ashok didn't. He just used her to get the property," says a resident.
Nitu may be next, they say. Sitting only metres from Sushma's house, a 40-year old says, "Nitu needs to be careful. She is getting too involved. Today she has police protection, but eventually that will be taken away."
Police records show in all 37 cases against Ashok — 35 in Gurgaon, one in Meerut, and one in Palwal — of extortion, attempt to murder, and seven of murder. A rape charge was also lodged against him but that was related to Sushma, and he was acquitted in this in 2002. Of the other cases, Ashok has been cleared in 21 cases, and convicted in four. The rest are under investigation or trial.
Ashok hasn't left prison now for five years. Still, the number of cases against him has grown. Apart from the case registered by Sushma alleging threat to life, and Nitu for "murdering" Sushma, two other cases have been registered against Ashok in the last two years, both for "criminal intimidation".
Of Rathi's gang of 28 members, only three are in jail. "They operate mainly in Gurgaon and Sohna and are involved in robbery, loot, extortion, criminal intimidation, and murder," says a Gurgaon police spokesperson.