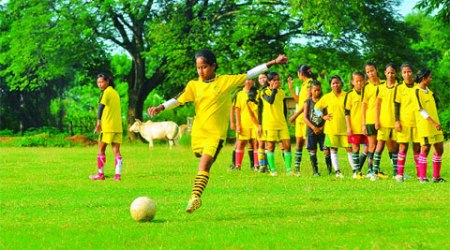 On December 16, 2010, several parents and residents of the villages falling under Rani block, near Guwahati, assembled at Rani High School to watch what they had never seen before. The school wanted the parents' approval for getting their daughters admitted to a football coaching centre they planned to open along with Guwahati-based coach Hem Das. Later that day, 23 girls came forward to participate in the first-ever coaching session that started with a 20-minute football match.
"Some cheered, some jeered, many hooted, but we did not bother," says Popi Rabha, now in Class XI.
Rabha, 17, is one of more than 30 girls belonging to villages in and around Rani on whose lives a recent documentary film is based. A small news item in a local newspaper in 2012 about some of the girls making it to the under-17 team led Delhi-based journalist-turned-filmmaker Utpal Borpujari to Rani High School. And in April this year, his documentary Soccer Queens of Rani released on Rajya Sabha TV. The film talks about the change in outlook towards girls in the interiors of Assam. "Football has changed the outlook and aspirations of these families, who now do not want to marry off their daughters till they complete their college at least," says Borpujari, who won the Swarna Kamal award for the best film critic in 2003.
Rabha, whose day starts at 5 am, has no time to rest on most days. Before reaching school at 9 am, she assists her mother with cooking and cleaning, and catches up on some school work. She is back only around 2 pm, after which she has to report for her football coaching sessions three days in a week. On days when she doesn't have her football classes, she works on the loom with her mother, and takes some time off to watch television. These days she is keenly following the FIFA World Cup, provided there is power. "I don't know what I want to become. But I know we can't pay bribes to get jobs. Can you tell us where they don't ask for bribes?" she asks.
Bandana Das, a Class VIII student at Rani High School, has recently joined the training centre. "I want to play football so that I can find a job through a sports quota. I have heard departments like the police and the railways have such quotas," says Das, whose father refused to let her two elder sisters join the academy. The family is based in Kaharpara village.
Some of the girls have even made it to the under-14 and under-17 state teams. It's quite a feat for the girls of the villages dominated by Rabha and Bodo tribals, whose primary occupation is small-time farming, and where girls married off by the age of 18 years. With poverty pushing them to work as daily-wager labourers, some families are into weaving, and others make traditional rice beer to eke out a living.
The idea for an academy for girls started in 2008, when Hem Das first visited Rani to organise an exhibition football match between two Guwahati-based teams. After the match, the locals asked him to train the boys, but that didn't work out as there weren't enough volunteers. Instead, some girls showed their interest. In 2010, Das opened a branch of his Guwahati-based football academy, Young Star Football Coaching Centre, at Rani High School, where students of over 20 villages study. At the time, about 23 girls joined the centre. Das did not charge any fee from them, and even provided playing gear. Within two years, the number rose to 50.
The beginning was patchy. The parents of Rabha and other girls fought disapproval from the locals to let their daughters pursue their dreams. "When we first sent them to play football, people passed derogatory remarks. But when our girls got selected to the state teams and went out to play all-India tournaments in places like Mumbai and Guwahati, the critics disappeared," says Bimala Boro, a homemaker, whose 17-year-old daughter Bonita, a Class XI student at Amranga Borihat HS School, about 12 km from Rani, played for the Assam team in the Under-14 girls' football match held in Mumbai in 2012. Boro, from Kaharpara village, wants her daughter to complete her graduation and find a job in the police or para-military forces. Rabha's mother Kalyani, a widow who sells tea and pakoras in local haats and weaves textiles to make ends meet, says playing football will make her daughter confident, which will help her find a job.
The biggest support for the girls has come from the coach. "He spends from his own pocket to train them," says Ratneswar Rabha, a manager in a stone quarry in the nearby hills, whose daughter Priya, now a BA first-year student at Dakshin Kamrup College, Mirza, 15 km from Rani, played for Assam in the under-14 nationals in Mumbai in 2012. Priya was hoping Brazil would make it to the World Cup final, and was really disappointed when it lost to Germany in the semi-finals.
Das, who spent almost all his savings last month to attend the FIFA World Cup in Brazil for a week, established Young Star Football Coaching Centre in 1979. The academy has produced dozens of reputed players. For instance, Francis Barua from his academy played for football clubs like Mohammedan Sporting, Mahindra United and Salgaoncar, while Sanjay Boro played for Mohun Bagan and Sawan Thapa for Peerless, while over a dozen represented Assam at the Santosh Trophy.
However, Das is set to retire in two years. "I wish somebody comes forward to continue this initiative," says Das.
For all the latest India News, download Indian Express App