Updated: February 20, 2014 7:13:03 pm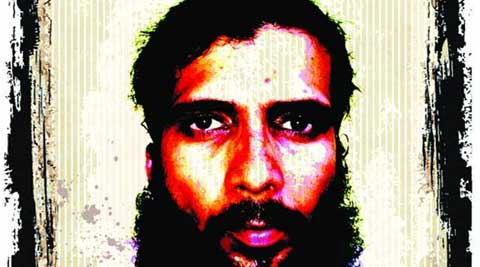 The National Investigation Agency today filed its second charge sheet against Indian Mujahideen (IM) co-founder Yasin Bhatkal and his close associate Asadullah Akhtar in connection with a case of alleged conspiracy to carry out terror acts in the country.
The supplementary charge sheet was filed before the court of district judge I S Mehta who posted the matter for February 24 for taking cognisance on the final report.
According to court sources, Bhatkal and Akhtar have been listed in the charge sheet under various sections of the IPC, including 120-B (criminal conspiracy), 121 (waging war against the country), 121-A (conspiracy to wage war) and under various sections of the Unlawful Activities (Prevention) Act.
The sources also said National Investigation Agency (NIA) has defined the roles of Bhatkal and Akhtar in the entire conspiracy of the IM to carry out the terror activities.
Bhatkal and Asadullah were among the 12 top IM members listed as absconders in the 42-page charge sheet filed earlier against arrested accused Mohammad Danish Ansari, Mohammad Aftab Alam, Imran Khan, Syed Maqbool and Obaid-Ur-Rehman under
various penal provisions of the Unlawful Activities (Prevention) Act and the IPC for conspiracy to commit offences against the state.
Regarding Bhatkal's role, the NIA had said that he, along with other conspirators, developed different modules and sleeper cells in Delhi, Darbhanga in Bihar, Nanded, Mumbai, Pune, Bhatkal in Karnataka and Hyderabad.
It had also said that Bhatkal had contacted several students of Anjuman Engineering College in Bhatkal to motivate them in the name of 'jihad'.
The NIA had also said in the charge sheet that IM was formed in the aftermath of "communal mobilisation caused due to factors like the Babri Masjid demolition incident (1992) and the riots in Gujarat after the Godhra incident (2002)"
The charge sheet had said that Bhatkal, along with Riyaz Bhatkal and Iqbal Bhatkal, other co-founders of IM, had decided to "form a new organisation called the IM to carry out terrorist attacks in different parts of India with a view to terrorise the Indian citizens, especially the majority community…"
The NIA had said IM, which was banned by the Centre on June 22, 2009, was involved in November 23, 2007 blasts in courts of Varanasi, Faizabad and Lucknow in Uttar Pradesh, Varanasi blast of July 11, 2006, Mumbai serial blasts of July 11, 2006 and Hyderabad twin blasts of August 25, 2007.
Besides this, Jaipur blast of May 13, 2008, Ahmedabad serial blasts of July 26, 2008, September 13, 2008 serial blasts in Delhi, Pune's German Bakery blast in February 2010, Chinnaswami stadium blast in Bangalore on April 17, 2010 and Mumbai serial blasts of July 13, 2011 were carried out by IM, the NIA had said.
The agency had arrested Bhatkal, wanted in over 40 terror cases and carrying a reward of Rs 35 lakh, and Akhtar from Indo-Nepal border on the night of August 28 last year.
Bhatkal hails from Bhatkal village of Udupi district in North Karnataka.
The court had earlier issued NBWs against Bhatkal, Akhtar and 10 other alleged top IM operatives on July 18 last year in a case in which five alleged IM operatives were named in a charge sheet on July 17 last year.
30-year-old Bhatkal, who was earlier associated with banned outfit Students Islamic Movement of India (SIMI), is suspected to have entered into a conspiracy with others to wage war against India.
For all the latest India News, download Indian Express App