The case of two teenage Dalit girls gangraped and hanged from a tree in UP's Badaun district has sparked a global outrage. People all over the world are protesting against the gruesome act which once again raised questions on the security of women in India. Below is the wrap of  how media across the world is reporting the incident.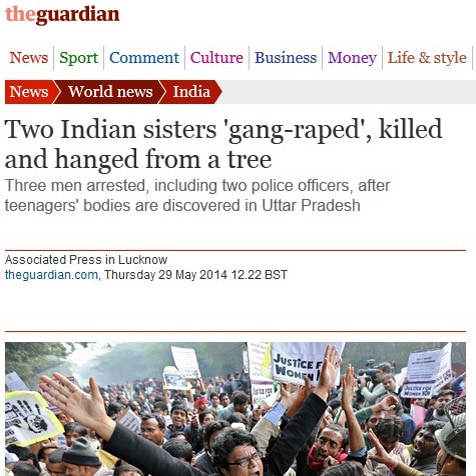 The guardian reported that Authorities in northern India have arrested three men, including two police officers, suspected of gang-raping and killing two teenage sisters before hanging their bodies from a mango tree.
The report also made a mention that India tightened its anti-rape laws last year, making gang-rape punishable with the death penalty. The new laws came after nationwide protests over the fatal gang rape of a 23-year-old woman on a moving bus in New Delhi in December 2012. The deaths have sparked renewed public outrage over sexual violence in the country.
Read: Two Indian sisters 'gang- raped", killed and hanged from a tree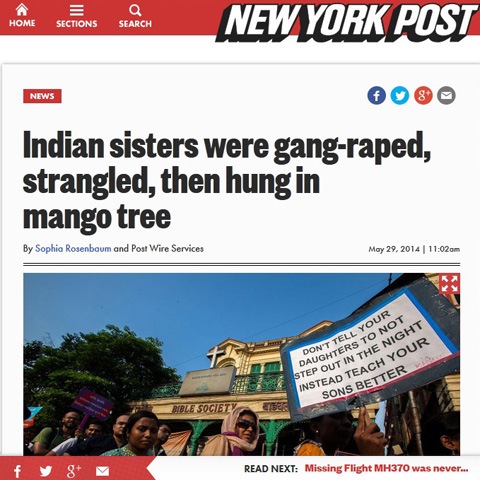 New York Post filed a detailed report: Hundreds of villagers formed a silent protest Wednesday around the girls' swaying bodies still hanging from the tree in an effort to demand action from the police, who have not arrested three other suspects in the case.
The girls, who were 14 and 15, were searching for a toilet to use and disappeared into the fields near their home in Katra village. No one saw them again until their bodies were found hanging Wednesday morning, according to police Superintendent Atul Saxena.
NYP also mentioned that autopsies confirmed the girls were raped and strangled before being hanged, Saxena said.
Read: Indian sisters were gang -raped, strangled, then hung in mango tree

BBC in its report mention the prevailing situation in India and said "Violence and discrimination against women in India remains deeply entrenched. But scrutiny of sexual violence has grown since the 2012 gang rape and murder of a student on a Delhi bus."
BBC also stated that the government tightened laws on sexual violence in India last year after widespread protests in the wake of that attack.
Read: India gang rapes: Arrests over hanged girls in Uttar Pradesh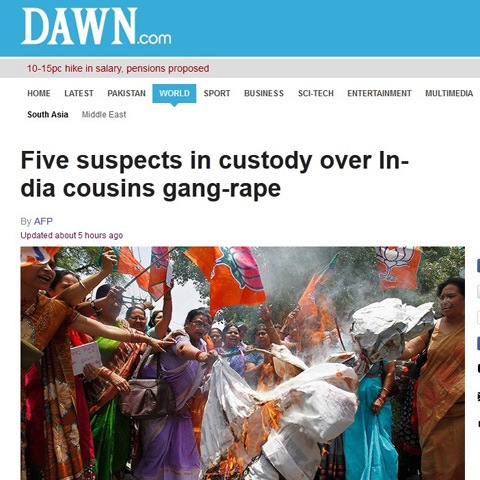 Dawn described the state of lower caste women in Indian villages and said that there is a long history of women and girls from India's lower castes — especially those who belong to the Dalit caste who were previously known as "untouchables" — of being sexually abused by people from higher castes.
It mentioned that Uttar Pradesh is deeply divided along caste lines and these kind of incidents are common in Indian villages.
Dawn also provided further development in the case and said that five men have been arrested over the gang-rape and deaths of two girls found hanging from a mango tree in a northern Indian village, police said Saturday.