On December 23, The Indian Express began reporting a multi-part series on 255 political parties that had been de-listed by the Election Commission after it found that none of these had put up a candidate for any Vidhan Sabha or Lok Sabha election between 2005 and 2015.
The EC's move — which saw parties like the Life Peaceful Party, Ministerial System Abolition Party and Bharatiya Santaji Party being de-recognised — brought the number of registered minor parties down to 1,761. Keeping aside India's 65 national and regional parties, that is still one political party for every 7 lakh Indians.
As might be expected, the largest number of these minor political parties are in the populous and politically aware Hindi heartland — Uttar Pradesh is on top of the list with 472 parties, and Bihar, with 117, is in the top five. UP's closest competitor is — again unsurprisingly — Tamil Nadu, the most volatile political theatre in south India. TN has 136 minor parties. Then there is Maharashtra, 123 parties.
Read | Addresses of delisted parties on EC list: J&K CID office, Home Minister's home, Gurgaon house
Delhi, India's power capital, has 248 parties registered with the EC — massive for its size. Logically enough, it is also the state with the smallest number of people per party — a mere 68,000.
Among the large states, UP also has the smallest party-population ratio of 4.22 lakh people per party, if Haryana (4.09) is not counted. The party:population figure for Tamil Nadu is 5.30 lakh per party, and that of Jammu and Kashmir 4.31. These four states, along with Punjab (6.09 lakh) are the only large states with a party-population ratio that is smaller than the national average of 6.87. For Uttarakhand, the figure is 4.05 lakh.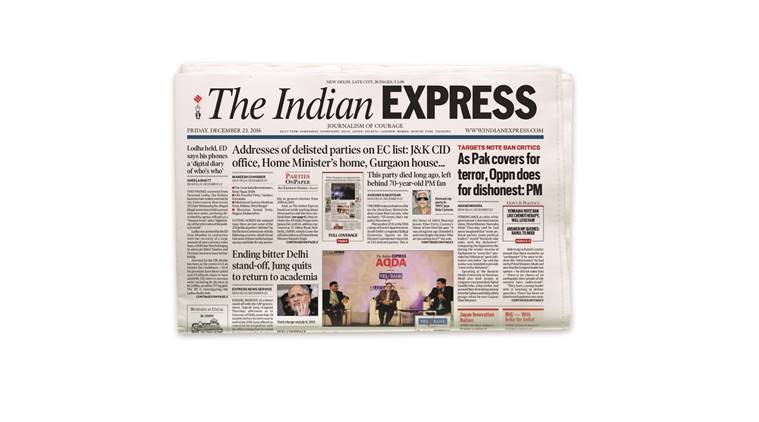 In the list of large cities with registered parties, Lucknow, with 91 parties, is a distant second to Delhi. Chennai (73), Mumbai (52) and Patna (46) follow. Kolkata, historically known for its political culture, lags behind Hyderabad, Allahabad and even Bengaluru.
In fact, West Bengal is surprisingly the state with the least number of parties per capita — one for every 20.30 lakh population. Rajasthan follows with 19.61 lakh population per political party. Gujarat ranks third among states lacking in party entrepreneurship.
In the Northeast, Manipur has the lowest party-population ratio.
In absolute numbers, 6 states — UP, Delhi, Tamil Nadu, Maharashtra, Bihar and Andhra Pradesh (including Telangana) — account for two-thirds of all minor parties in India. The bulk of the recently de-listed parties — 180 out of the 255 — also belonged to these states.
For all the latest Explained News, download Indian Express App