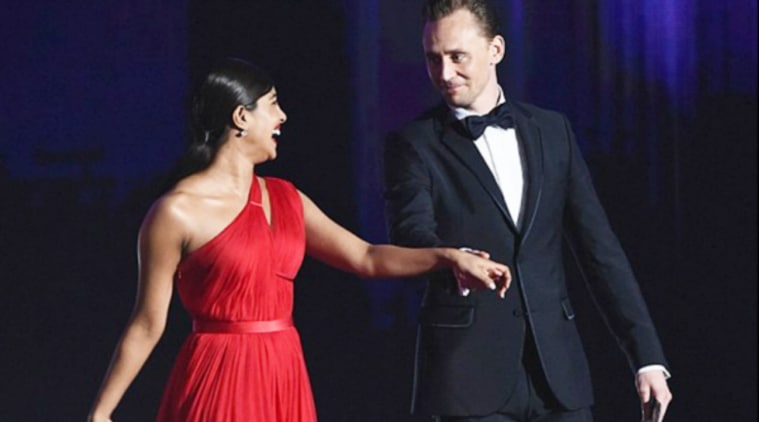 Priyanka Chopra and Tom Hiddleston made heads turn at the 68th Emmy Awards with their sizzling onstage chemistry.
They came. They saw. They conquered. And they left the world swearing by their sizzling chemistry. We aren't talking about any film's lead pair, but actors Tom Hiddleston and desi girl Priyanka Chopra who were no less than a 'couple' during their 'red-hot' Emmy appearance. Red, because PeeCee's ensemble left fashion gurus sweating, and hot because the way Tom gave her a hand while she was twirling on the Emmys stage. And the moment became the highlight of the Emmy Awards.
More from the world of Entertainment:
Now, a piece of latest news is surely making us super happy. Tom will reportedly guest star in the upcoming second season of Priyanka Chopra's Quantico. And you thought reports of their backstage and after-party flirting was just a passing one?
Also read | Priyanka Chopra, Tom Hiddleston flirt at Emmy after-party, exchange numbers
Hollywood actor Tom Hiddleston was seen with Priyanka Chopra when they presented a trophy together at the 68th annual Emmy Primetime Awards ceremony in Los Angeles on Sunday. According to sources, Marvel's Loki has been tagged that he will have a potential love story crossover in the show. Priyanka, who was seen essaying FBI agent Alex Parrish in the first season of the American drama series, will now portray a CIA agent in the second season, which will premiere on September 25.
She had something to say about the upcoming season. Check it out.
And just as we were drooling under the chemistry between Tom and Priyanka, the Bollywood actress shared a video on her Instagram handle, about a fashion tour, she seems to be part of. And forget the details, we just cannot get over her oomph and style in the clip. She even shared the cover of Filmfare magazine where she has been featured this month.
Check out both the posts.
Priyanka is surely on the roll. And as if the wait for her Quantico 2 was getting any less tough, Tom making an appearance has made life, oh so difficult!