Songstress Rihanna has proved time and again that she is not afraid to bare her beautiful body.
The pop star won points for her scandalous avatar at the recent CFDA awards when she showed up in a translucent mesh ensemble with more than 2,30,000 Swarovski crystals.
Her sheer halter gown left nothing to the imagination as Rihanna went braless that night with the addition of a nude coloured thong. She accesorised her almost-naked outfit with matching gloves, a shimmery head scarf and a pink fur stole. Smoky eyes and minimal make up completed her look, drawing emphasis to her perfect jaw line.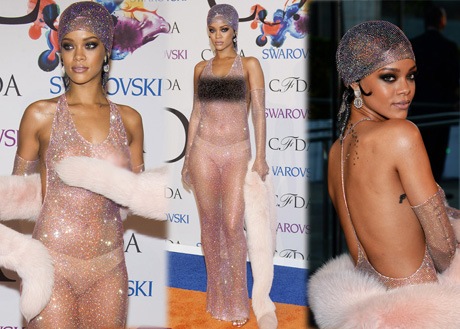 The brain behind Rihanna's jaw-dropping creation was none other than her stylist, Mel Ottenberg.
Rihanna was also presented with an award at the CFDAs by Anna Wintour, editor-in-chief of American Vogue.
For all the latest Entertainment News, download Indian Express App