Logan, the last of the Wolverine series featuring Hugh Jackman as Sam Logan aka Wolverine has made a place for itself in the hearts of fans for its clean execution and impressive plotline. There is much violence, especially performed by a minor that might look disturbing to people who are not familiar with the world of mutants and X-Men, but Laura, Wolverine's daughter performed each slash seamlessly.
With so much violence and gory fight scenes, the movie has just one scene that has a smile or two. Those who have watched the film know that we are talking about the scene where Professor X, Logan and Laura are invited over for dinner at a local farmer's house. What we saw was the family dining together, laughing at each others' jokes and getting to know their guests. Apparently, James Mangold had sketched out something much darker here. Something that involved Jean Grey.
Watch | Shah Rukh Khan Feels He Needs Hair On His Chest To Play Wolverine
If we trace back to X-Men – The Last Stand, Jean Grey was killed by Wolverine to free her from the Phoenix Force. However, in X-Men Days of the Future Past, the events leading to Grey's death is erased and she is shown to be alive again.
See | When Logan, Laura and Professor X dine with Munson family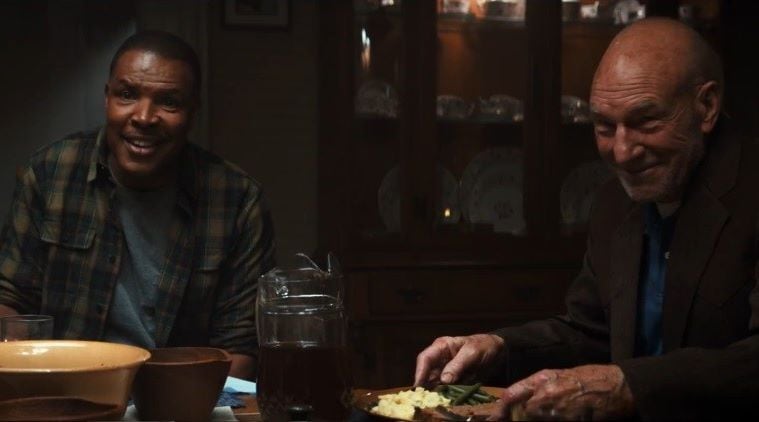 James Mangold wanted to show what exactly happened to Jean Grey in the new timeline and had, in fact, shot the scenes. However, he confessed that these scenes, though beautiful were not fitting with the flow of the film. In an interview with Empire Magazine, the director said, "I sketched out different conversations for that dinner scene and one of them went to a much darker place. Mrs Munson asks Logan if he's married, and Charles says he was – but he killed her. Of course, he wasn't really married, but what that then spawns is Charles waxing poetic about Jean Grey, and it's a really cool moment. Both Hugh and Patrick were amazing."
Also read | Logan movie review: Wolverine Hugh Jackman's sendoff is unlike any other X-Men movie
Later he added, "The problem was, it created an incredibly powerful lead brick in the middle of the only moment in the movie where there was a breather. Even I, with my taste for the dark, felt that it was one too many. Things go pretty shitty within seconds after that."
So will fans ever get to see what happened to Jean Grey in the new timeline? To this, the director said, "I think [the deleted scene] will make it to the Blu-ray." We sure hope so, because, with the next X-Men movie with the younger cast in the pipeline, it would sure be nice to guess at what led Wolverine to kill his Jean.
For all the latest Entertainment News, download Indian Express App