The trailer of the much awaited film adaptation of E. L James' erotic novel '50 Shades of Grey' is finally here. The teaser is everything we imagined it to be and more. It's intense and sensual as Jamie Dornan and Dakota Johnson bring to life the characters of Christian Grey and Anastasia Steele.
The video starts off with the timid and mousy Anastasia arriving at the office of a successful businessman Christian Grey for an interview. From their first encounter itself, the sexual tension between the duo is extremely palatable.
Anastasia is in awe of Christian who she thinks is polite, intense, smart, intimidating while he is clearly taken up by her as well.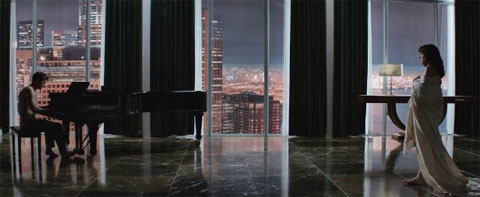 The trailer reveals some steamy scenes between the duo as they explore each other in the bedroom as well as outside. However, Christian has a secret that Anastasia is eager to share.
Will their relationship turn out to be more than just based on sexual chemistry?
Directed by Sam Taylor-Johnson, '50 Shades of Grey' also stars Luke Grimes Elliot, Victor Rasuk and Rita Ora.
WATCH:
For all the latest Entertainment News, download Indian Express App