Live Aid founder Bob Geldof said his family was "beyond pain" at the death of his socialite daughter Peaches at the age of 25 on Monday.
Police were called to her secluded home outside Wrotham in Kent, southeast England, but she was pronounced dead at the scene. Her death was being treated as "unexplained and sudden" but non-suspicious, police said.
Peaches, a mother of two young sons herself, was just 11 when her mother, television presenter Paula Yates, died of a heroin overdose aged 41 in 2000.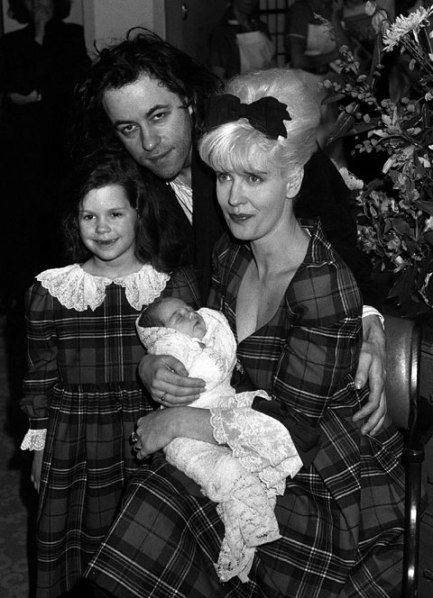 In her last Twitter message to her 190,000 followers yesterday, Peaches posted a photograph of her as a baby being held by her mother, with the words, "Me and my mum".
Her father Bob, who put together a huge live rock show in 1985 to raise money for the Ethiopian famine, said of his second daughter: "Peaches has died. We are beyond pain.
"She was the wildest, funniest, cleverest, wittiest and the most bonkers of all of us.
"Writing 'was' destroys me afresh. What a beautiful child.
"How is this possible that we will not see her again? How is that bearable? We loved her and will cherish her forever."
Singers Lily Allen and Ellie Goulding were among the first to pay tribute on social media.
"My thoughts are with Peaches' family at this awful time," fellow mum-of-two Allen wrote on Twitter. "I hope they get to grieve in peace. Peaches, rest in peace gorgeous girl"
Singer Ellie Goulding added: "Even if you think you've got it all figured out, some things still can't be explained or understood. Two beautiful children. RIP Peaches".
Peaches was the second daughter of Bob Geldof and Paula Yates. Their first was Fifi Trixibelle, and Peaches has a half-sister, named Heavenly Hiraani Tiger Lily, her mother's daughter with late INXS frontman Michael Hutchence.
Peaches' second husband Tom Cohen, the singer in the now-disbanded group S.C.U.M, said: "My beloved wife Peaches was adored by myself and her two sons Astala and Phaedra and I shall bring them up with their mother in their hearts every day. We shall love her forever."
She married her first husband, rock musician Max Drummey, in 2008 but they separated the following year.
Peaches wed Cohen two years ago in the same church in Kent where her parents were married and where her mother's funeral was held.
For all the latest Entertainment News, download Indian Express App