Written by
Sunitra Pacheco
| Mumbai |
Published: September 12, 2013 12:19:49 pm
Bollywood superstar Salman Khan is back on the small screen with 'Bigg Boss 7' and the actor invited Shah Rukh Khan to promote his films on the reality show.
Friends-turned-foes Shah Rukh Khan and Salman Khan hugged and made up at an iftaar party in July earlier this year,thus ending their five years of rivalry.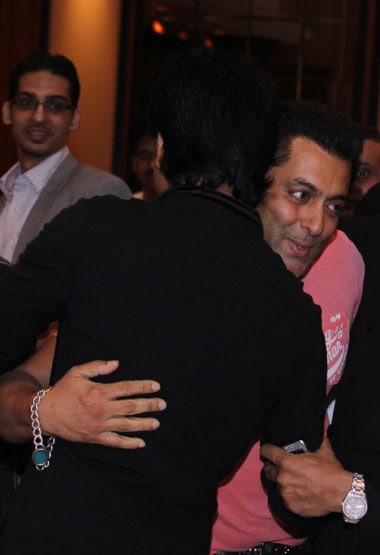 "Of course,he (Shah Rukh Khan) can come. If he is promoting his next film,he is more then welcome," Salman Khan told reporters at the launch of 'Bigg Boss 7' in Mumbai on Wednesday (September 11).
Further talking about the now famous 'hug',Salman Khan said it is only natural to hug and shake hands. He went on to say if he didn't do,it wouldn't 'be human'.
"I feel that it was Ramadan time…This gesture should be done by everyone. It is a good thing to shake hands and hug," he said.
He also said with regards to his contemporaries Shah Rukh and Aamir Khan,the healthy way to beat them would be through his work.
"If we have to hit each other,we will do so through our work," said Salman at the show's launch.
'Bigg Boss season 7' will go on air later this month. The show usually has 14 contestants from the television world,films,sports,politics etc,locked for three months in the Bigg Boss house with several cameras watching their every move.
For all the latest Entertainment News, download Indian Express App