The only woman technician on the crew of Gandhi (1982), Bhanu Athaiya sat with her colleagues at the 55th Academy Awards night. Nervous about the nomination — Best Costume Design for Gandhi — she smiled faintly, her gaze flitting between the stage and her friends. When her eyes met Richard Attenborough's, the film's director seated a few seats away, he blew her a kiss. Her nervousness subsided.
"It was a small act on his part, but it helped me deliver a coherent speech on stage when I was announced the winner alongside John Mollo," Athaiya recounts.
At her Warden Road studio, in Mumbai, the 85-year-old costume designer holds a framed photograph in her hands. It has her with Attenborough and his wife, actor Sheila Sim, with the Oscar statuettes placed in front of them. Pointing towards Attenborough in it, she says, "He was one of a kind; he put India in the spotlight."
It's been 31 years since her Academy win and Athaiya is quite unwell, but the news regarding the Gandhi director's death has visibly disturbed her. Athaiya's daughter Radhika Gupta says that the loss is personal to her, given that she shared a warm friendship with Attenborough and Sim.
Athaiya had a distinguished, three-decade-long career behind her in the Hindi film industry when Gandhi was offered to her. It was Simi Garewal who fixed Athaiya's meeting with Attenbor ough in 1977. "What my mother brought back from her meeting was the observation that Attenborough was a very simple man," says Gupta.
Attenborough and Athaiya shared their love for attention to detail and Athaiya also learnt a lot from him. "He knew about Indian culture more than many Indians, such as the details of what the railway coaches had looked like or what it meant to live a Gandhian life. He had been researching on the subject for over 15 years," says Athaiya. In fact, in the '70s, Attenborough turned down several acting offers to focus on the film. He spent two years in pre-production for Gandhi. He even got her to take Ben Kingsley to explore Delhi, to get acquainted with Indian culture as well as historic landmarks.
Work on the film went on for nearly four years and Attenborough was always appreciative of Athaiya's patience. For instance, for the scene depicting the Mahatma's funeral, with three lakh people, Bhanu spent hours tying dhotis.
After the film, Attenborough and Sim stayed in touch with her through letters. For a book on her, The Art of Costume Design, she requested the actor-director to contribute. He obliged with an insightful and endearing letter, which has been used as the foreword.
In 2009, Sim was diagnosed with dementia and admitted to a sanatorium . This came a few years after the couple lost their daughter to the tsunami in 2004. Attenborough and Athaiya lost touch after he was admitted to the same sanatorium as Sim, following his illness caused by a fall.
Alyque Padamsee  played Jinnah in Gandhi
I was a big fan of Richard Attenborough, but I always knew him as an actor, never a director. We met at a cocktail party at Sea Rock Hotel in Mumbai and we had a five-minute chat. The next day, I got a call from him saying that he wanted me to play Jinnah. There was no screen test. He would later tell me that he thought I was an autocrat, just like Jinnah, which is why he selected me.
I took a flight to London the very next week to meet with his costume designers who stitched 10 fine suits for me. Remember, Jinnah was among the top ten best dressed men in the British Empire, so these suits were beautiful. I grew quite attached to them by the end of shooting. W
hen I asked if I could keep one of the suits as a souvenir, he replied, "Darling boy, they each cost 10,000 pounds!" He told me that if I really wanted to keep a souvenir, I could keep the monocle my character Jinnah wore — it cost barely 10 pounds.
He was a wonderful, humorous man who never lost his cool. I was running Lintas at the time, and I had very little time to act. When I told him that I will be available to shoot only on weekends, he easily agreed. He paid attention to detail. Every one on the set would get a call sheet, a schedule for the next day.
On one of the days, other than the usual — make-up at this time, lunch at a certain time — there was a small note to the caterers that read: 'Please see that none of the actors leave the eating tent with food.' This was because there was a scene with helicopters the next day, and Attenborough was worried that if some one dropped crumbs outside, it would attract birds, which would be hazardous for the helicopters.
As told to Kevin Lobo
'For you, I will read the entire telephone directory'
Filmmaker Sandip Ray
Richard Attenborough played General Outram in Satyajit Ray's Shatranj Ke Khilari
When my father told Sir Attenborough that he could read out the script of the film to him, he responded, "For you, I will read the entire telephone directory". He was a great admirer of my father's work and had seen all of his films by then. I was the still photographer for Shatranj Ke Khilari (1977).
Though he was a non-smoker, he did not mind smoking a cigar for the film. He prepared for the role and had already done his research well before arriving in Calcutta. He knew his lines very well and was always on time for the shoots.
As told to Debesh Banerjee
'A people's person'
Govind Nihalani, second unit director for Gandhi
I met Richard Attenborough in the late-1970s at Liberty Cinema in Mumbai during a screening of my film Aakrosh. I was told he was making notes about the locations and actors in my film, because he was working on a huge project based on Mahatma Gandhi.
By then he was a well-known actor and I was starstruck when Dolly Thakore, Gandhi's casting director, introduced me to him. There in the darkened hall with my film still playing in the background I first met him.
Richard called me the next day and invited me to work on his magnum opus, Gandhi. That was the beginning of one of the most enriching and fruitful journeys of my life. I had not worked on an international project of this scale. I was to work as a second unit director, which involved following the action happening around the central scene.
I asked him if I could spend a few weeks learning how the main camera unit functions so both the camera units could blend well. It was a strict schedule, but it was a great learning experience. The director of photography, Billy Willams fell ill when we needed to shoot Gandhi's assassination scene. Because he gave me the chance, I could step in and shoot it myself.
Richard was a great organiser. He was managing hundreds of crew members, schedules and locations. But every single shoot ran on time, like clockwork. There must have been hundreds of people — cast and crew on set, every day, but he was invested in each of them. I learnt from him that filmmaking is all about human connections. It is about nurturing somebody's creative mind and bringing out the best in him.
And that is what Richard did best. If I had a doubt about a scene I would go to him and ask, "How do you want to shoot this?" and without missing a beat he would throw the same question back at me. The final shoot would mostly be the idea I suggested. I believe that was his most striking quality.
A people's person, it was his compassion that made him great. He was more passionate about the film than anyone else on the set. We were already inspired because we were working on a film about one of our nation's heroes, and so the energy levels on the sets was immense.
As told to Amruta Lakhe
Amal Allana, set decorator, Gandhi
Over dinner at the Ashoka Hotel in Delhi, where he had been staying with the members of the Gandhi team, Richard Attenborough told Nissar (Allana, theatre person) and me, "We are making this huge film, what do you think about it?" "It is great," I said and the next thing is that he wants us to be set decorators on the film.
At that time, we were young, we had two children and I had also a play coming up, so I said that we'll think it through. He answered, "Let me tell you right now that this new film is going to win several Oscars. You should not miss this opportunity." He was so sure. He said we could bring our children to shoots, which would be held all over India, and they would pay for the maid. I turned down that offer, but Nissar and I went to work on Gandhi and it was the biggest thing we had ever done.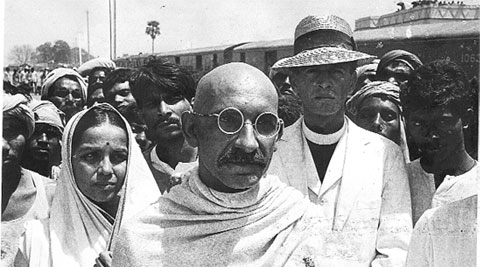 We spent nine months straight just researching, reading books day and night before dressing up Sabarmati Ashram and the famous Congress meeting at the beginning, among other Indian sets — a foreign crew did the British sets. Once, they were shooting Ben Kingsley as Gandhi walking into the kitchen after feeding the goat.
I went up to the First Assistant Director David Tomblin and said that Gandhi would never walk into a kitchen with his chappals, and that too from the keechar outside. David spoke to Richard and he said, "Come here darling. Sit right near me. We will stop and take this shot again." That's how friendly and particular he was.
There was a research person present all the time before every shot so that people could refer to her about the nitty-gritty. Attenborough was being criticised by film people and political people every day because they were opposed to the government of India allowing a foreigner to make a film on Gandhi. There would be people throwing stones at him, but he stayed on course.
As told to Dipanita Nath
Dolly Thakore, casting director for Gandhi
Rani Dubey, the co-producer of Gandhi, was a friend. It was an afternoon in 1979, around 2 pm, that Richard Attenborough walked into our Peddar Road home. I had never worked in films before, but he saw this collage of photos of theatre actors on my wall and loved it.
We still didn't have any furniture at home, so we sat on gaddas, and  spoke till 7pm. He was such a great man, but made us feel like he was a family friend. He was bad at remembering people's names, so he'd call you 'poppet' or 'angel', or 'darling' all the time. I never saw him lose his temper.
It isn't like today, where production houses count the last rupee you spend. He gave me a free hand to travel across the country and look for talent in theatre. Many people earned their first salaries, thanks to Gandhi.
As told to Kevin Lobo
Alok Nath played Tyeb Mohammed in Gandhi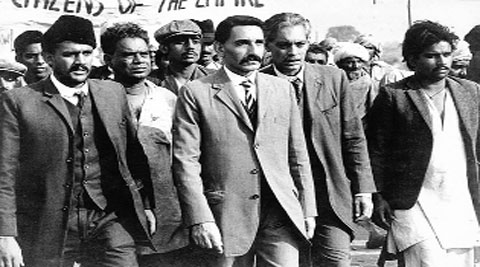 Gandhi was my first taste of celluloid. I had done some TV work until then. We were shooting at Fergusson College, Pune. In spite of rehearsing for weeks, I was messing up the only long dialogue I had. I was nervous.
Attenborough walked up to me, put his hand on my shoulder and told me that making mistakes is the birthright of every actor and all of us go through it. He calmed me down. No film that I have worked on since has had the kind of discipline on the sets as Gandhi did. Everyone came prepared, and Attenborough was a celebration of life.
As told to Sankhayan ghosh
For all the latest Entertainment News, download Indian Express App