Shera comes across as a no-nonsense man who is focused on doing his primary job – guarding Salman Khan. Late on Tuesday night, Shera was booked for assault after an altercation with a man. Shera himself told Times Now, "Nothing happened on Tuesday. I went to meet a friend at Kokilaben Hospital, then I went to Pop Tate's where I had a verbal argument on the phone, but no physical scuffle. The police came to my house in the morning and now I am accompanying them to the DN Nagar Police Station. I don't know the details of the charges against me."
Without commenting on the police case, we take a look at the life of Shera and his meteoric rise that made him Salman's right-hand man.
Salman Khan's bodyguard Shera's Family background
Born into a Sikh family in Andheri (Manish Nagar) in Mumbai, Shera's real name is Gurmeet Singh. Yes he is a Sikh who decided to sacrifice his turban for his job. "It became very difficult to handle the crowds with my turban so I had to cut my long hair," Shera once said in an interview to indianexpress.com. As a kid, Shera was less inclined academically and spent a major part of his early childhood chipping in at his father's automobile workshop. And before Bollywood and Salman happened, pumping iron was Shera's only passion, something that helped him win a few bodybuilding contests namely Mr. Mumbai and Mr. Maharashtra contest in which he stood second.
WATCH VIDEO: Salman Khan's Bodyguard Shera Booked: Find Out Why
Salman Khan
It was Shera's impressive physique that helped him get into security in the early 90s when Andre Timmins of Wizcraft asked him join his company to handle protection details of Bollywood bigwigs. He first met Salman in 1995 at a party held for Hollywood star, Keanu Reeves. It was just a chance meeting which didn't materialize into anything at first. However, a freak incident in Salman's life thereafter when crowd spiralled out of control at a show in Chandigarh forced his brother Sohail to look for a new and stronger bodyguard. This is when Shera came into the picture. "Bhai ke saath hamesha rahoge (Will you always stay with my brother)?" Sohail asked Shera to which the beefy man said, "Yes".
Also read | Salman Khan's bodyguard Shera booked for assault
A bond is formed:
While the rest of the world including girls address Salman as Bhai, for Shera Salman is Maalik. "Maalik means master and Salman Maalik is everything to me. I will lay down my life for him. He is my god," Shera told me once. And he has proved his loyalty towards Salman by keeping him out of physical harm at all public places even if it means running in front of his car for miles. Recollecting an incident that endeared him to Salman for life, Shera said, "During one of my early assignments, I was at Indore with Maalik. We were travelling by car through this very small road where there were a lot of fans present and other people walking as well. So, it was difficult to drive. I got out of the car and ran in front of it for two kilometers clearing the crowd and allowing the car to pass smoothly. Since then, I have been like family for Maalik."
Bodyguard film
Salman dedicated an entire film to Shera, a gesture that the bodyguard is eternally grateful about. "Who else has ever done such a thing for his bodyguard in the industry?" asked Shera. And the man repays his master by staying concerned only with his job. "Apne kaam se kaam rakho. I am like a horse decked up at a wedding to carry the groom. I am only concerned about my Maalik (Salman) and wherever he goes, I am there. I am his Yes Man. Till date, whatever Maalik has asked, I've done. That is why I am a part of Maalik's family," said Shera.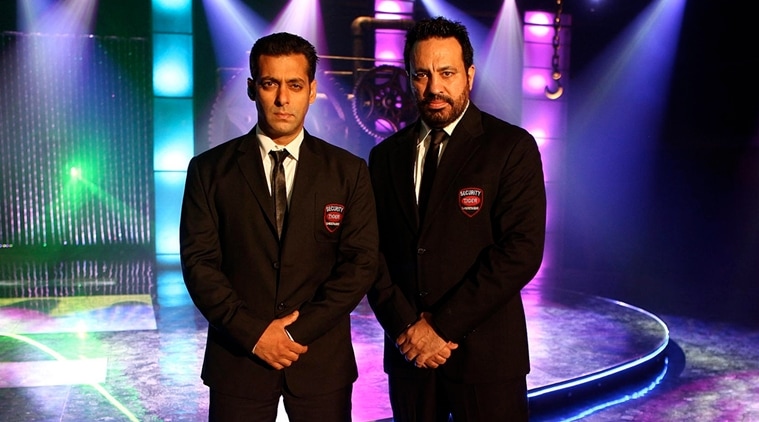 Salman Khan to launch Shera's son
Shera's son Tiger, a handsome young man, is waiting in the wings to be launched by Salman. The youngster is currently learning the ropes of Bollywood by assisting filmmakers and was also an assistant director on the sets of Sultan.
Salman and Shera – a reciprocal relation
Today Salman is guarded by a posse of bodyguards while shooting in India. But if Bhai travels abroad or for something extremely important in India, his security detail is handled by a lone ranger- Shera. At best, their relationship today can be described as a reciprocal one where one cannot do without the other in life.
For all the latest Entertainment News, download Indian Express App