New Delhi |
Published: January 30, 2014 5:53:35 pm
Yes you got that right – Bollywood megastar Amitabh Bachchan recently spent a day chasing a wild ass (quite literally) during his visit to Gujarat's Rann of Kutch.
The megastar wrote on his Facebook timeline,"The entire day chasing 'Wild Ass' … not literally but keeping safe distance to get that perfect shot .. they are very shy and quick on their feet … but beautiful and clean and shining .. photos in a bit with you … thank you for liking the one put up last night .. !!!"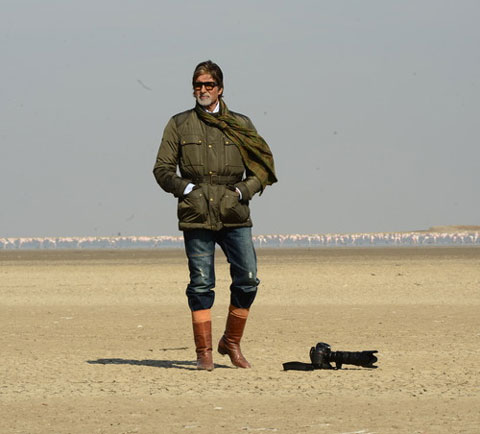 He elaborated on his blog, "Chasing 'Wild Ass' in and around the 'little rann' in Gujarat can be quite a process ! Firstly of course, is the direction according to the Administrative staff assigned to the preservation of this rare species, of not ever attempting to chase them. They are shy and reticent animals, and prefer to not be disturbed in their somewhat quiet existence. So we have diligently maintained that, even as attempt after attempt in getting close to them by jeep, has not been very fruitful !!"
Big B is in Gujarat to shoot for the third phase of 'Khushbhoo Gujarat Ki' advertisement campaign to promote tourism in the state.
The actor has shot for advertisement sequences in Ahmedabad already. Amitabh Bachchan shot at architectural complex Sarkhej Roza as well as the Vintage Car Museum for the campaign.
Meanwhile, Madras Cafe director Shoojit Sircar is also in the western state to shoot for the wilderness of the state.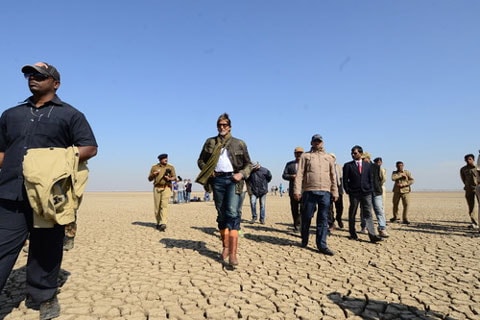 Shoojit Sircar said, "Bachchan Saab and I are heading for various places in Gujarat to shoot images of birds and animals. The wild ass in the Rann Of Kutch is famous. So we head there to capture them on camera in all their unfettered glory. We will also be shooting images of black bucks and many species of birds. Do you know, numerous species of birds migrate to Gujarat in the Winter and then leave after the season is over? We want to capture these birds in camera. There is a very vibrant and prolific wildlife prevalent in the sanctuaries and forests of Gujarat."
Big B and Shoojit intend to rough it out in the wild terrain, visiting places where no basic amenities, let alone luxury hotels, are available.
Shoojit said, "It's going to be a challenging week in Gujarat in the last week of January. We're ready to rough it out."
For all the latest Entertainment News, download Indian Express App